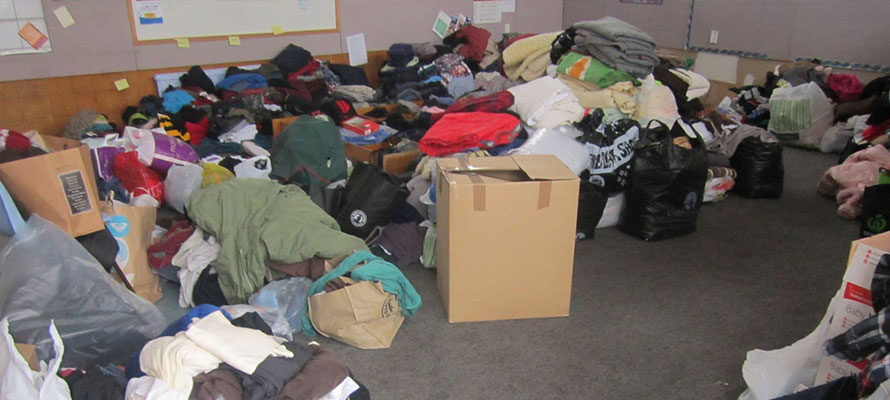 | | | |
| --- | --- | --- |
| | | Amy Burke was a parent at Kidsfirst North New Brighton. Head Teacher Wendy McAra describes her as "one of those wonderfully kind people who used to support us as much as possible." |
SOME OF OUR STORIES.

Amy was always willing to do the small but oh-so-important tasks that each kindergarten teacher knows so well: putting the sandpit cover on at the end of the day, or taking washing when she already had enough to do for her family at home.

This selflessness has stretched even further than the kindergarten walls. She noticed the homeless people in Christchurch, after she went to her job in the city each night, and simply could not ignore it. Now the 36-year-old mother of four distributes warm clothing and food every night in the central city. When they heard about Amy's efforts, Kidsfirst North New Brighton realised that this was a great opportunity to be able to support her in return.

A note was put out explaining Amy's story and the donations soon began to arrive. The news travelled fast through the New Brighton community and not only have current families now contributed, but so have past families, friends of the kindergarten and teachers' families.

At Kidsfirst North New Brighton, the children learn all about giving rather than receiving. Wendy says that the children drew pictures for Amy to give to "our friends in need" and Amy reported back that the recipients were overwhelmed, emotional and very grateful to receive such a gift.

"This has been a really humbling experiences for us all as a community," says Wendy.

Sleeping bags, socks, gloves, beanies and warm layers have been distributed since Amy began, as well as countless warm meals. It is food and clothing with a no-questions-asked policy, she said.

"People have a right to be warm and fed. I'm not there to judge their circumstances, they need help. They don't even need to tell me their name."

What a great example of the kindy spirit and generosity. If you would like to help, get in touch with Amy through her Facebook page.

QUICK READ

Amy Burke runs 'Help for the Homeless', a campaign that she began herself and now it has support all over Christchurch.

Hear about how Kidsfirst North New Brighton helped her out.
KIDSFIRST KINDERGARTENS ARE A NOT FOR PROFIT ASSOCIATION THAT HAS DEVELOPED AND MAINTAINED KINDERGARTENS IN CHRISTCHURCH, CANTERBURY AND ON THE WEST COAST FOR OVER 100 YEARS - AS THE PLACE LOCAL KIDS COME TO LEARN, PLAY AND HAVE FUN.