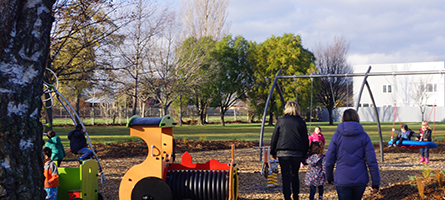 | | | |
| --- | --- | --- |
| | | Kidsfirst Northcote were on board with a brand new community playground being built next door to their kindergarten... |
OUR TOP STORIES

NEWS FROM AROUND

CENTRAL OTAGO

A wonderful learning opportunity arose for the children at Kidsfirst Northcote in the park right next to the kindergarten – with an exciting new playground being built.

"We checked out the progress daily, often taking our clipboards over and discussing with the workers what we would like to see in the playground," explains Teacher, Beth Hunia.

The workers constructing the playground were really responsive, showing the children their plans and engaging them in discussion about some of the challenges they were having constructing the climbing frames.

"We documented many of the children's drawings and ideas around the playground and displayed these on the kindergarten walls," says Beth.

One very wet, cold day the builders were invited over to check out the designs and to have morning tea. The children baked silver beet savouries for the builders, shared many of their ideas and showed them their drawings.

"Of course they were very interested and promised us first go to test out the playground when it was finished!"

QUICK READ

Every day at kindergarten we connect children and whānau to their local communities. At Kidsfirst Northcote there's been a great new community connection happening right over the fence - in the neighbouring park.
KIDSFIRST KINDERGARTENS ARE A NOT FOR PROFIT ASSOCIATION THAT HAS DEVELOPED AND MAINTAINED KINDERGARTENS IN CHRISTCHURCH, CANTERBURY AND ON THE WEST COAST FOR OVER 100 YEARS - AS THE PLACE LOCAL KIDS COME TO LEARN, PLAY AND HAVE FUN.