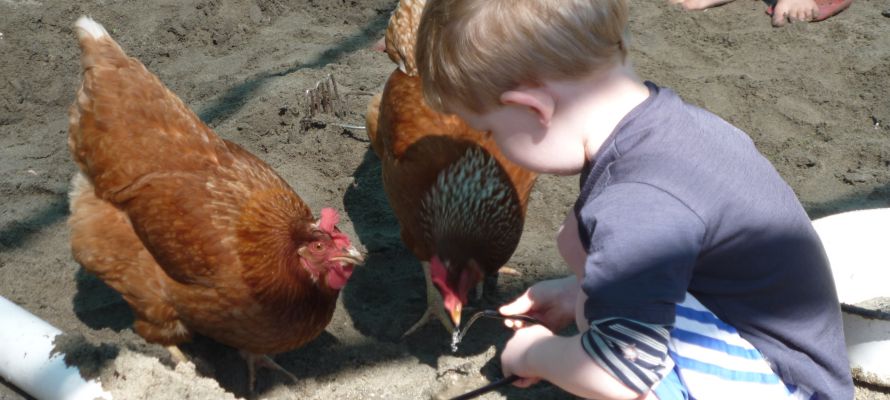 | | | |
| --- | --- | --- |
| | We have a whole community of animals across our kindergarten network including these two new cheeky chickens at Kidsfirst Hawthornden... | |
SOME OF OUR TOP STORIES

Taking care of animals at kindergarten helps children learn about having a sense of responsibility and respect for life.

Kidsfirst Hawthornden recently acquired two copper coloured 'Brown Shaver' chickens that are thriving in their lovely, large outdoor area.

"Cheeka and Peepa happily spend their days looking for bugs, digging in the garden, dust bathing and doing the weeding!" says Head Teacher, Catherine Gerslov-Wright.

Hand raised and very tolerant they lay two eggs every day that nga tamariki love to collect - and are learning to handle with care! Morning tea baking is often with thanks to their eggs.

Some days they'll both wander curious into the sandpit, cocking their heads to cast an eye over creative proceedings.

"If children are playing with water at the time they'll take advantage of a quick drink before they're on to their next adventure," says Catherine.

"They're getting a bit cheeky and now have to be put away in their pen when tamariki are eating, as they quickly discovered that morning tea and lunch means there is food for the grabbing!"

Such lovely additions to your kindergarten community Kidsfirst Hawthornden! Read more (here) about our Kidsfirst Kindergartens community of animals.

Kidsfirst Kindergartens
Head Office, 43 Birmingham Drive, Middleton, Christchurch 8024
+64 3 338 1303 email: questions@kidsfirst.org.nz
Postal Details: Kidsfirst Kindergartens, PO Box 8089, Christchurch 8440
KIDSFIRST KINDERGARTENS ARE A NOT FOR PROFIT ASSOCIATION WITH OVER 70 KINDERGARTENS AND EARLY LEARNING CENTRES COVERING CHRISTCHURCH, CANTERBURY, CENTRAL OTAGO, BANKS PENINSULA AND THE WEST COAST - AND HAS DONE SO FOR OVER 100 YEARS
- AS THE PLACE LOCAL KIDS COME TO LEARN, PLAY AND HAVE FUN.