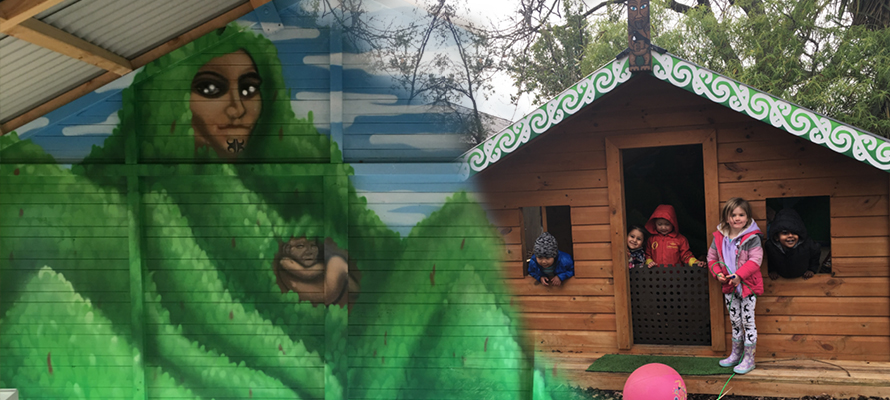 | | | |
| --- | --- | --- |
| | Kidsfirst Phillipstown have a new kindergarten wharenui, providing a quiet restful space for tamariki and an opportunity to explore te ao Māori me ōna tikanga. | |
SOME OF OUR TOP STORIES

"Our design concept represents Tāne Mahuta, the Māori Guardian of the forest and the birds," says Kidsfirst Phillipstown Teacher, Mish Lasseter.

"We chose this theme to compliment our amazing outdoor environment."

"A Pīwakawaka (fantail) and a Tauhou (silver eye) that adorn either side of the whare are symbolic of our tamariki, as birds are the tamariki of Tāne."

Inside, a floor to ceiling painting of Papatūānuku/Mother Earth, and Rūaumoko (the baby in her belly who causes earthquakes) pays homage to the 2011 earthquakes in Ōtuatahi and the 185 lives lost.

The murals were created by a local graffiti artist, Brandon Warrell and Cath Milo (a Ngāi Tahu artist) has painted the maihi/arms and amo/uprights.

"The design of the maihi uses traditional elements of koru, pitau/seeds and new shoots, to symbolise our tamariki, who will grow and unfurl like shoots of a fern," says Mish.

"The double koru symbolise those who support and nurture our tamariki, whānau and the wider community. And gracing the top of our whare, the tekoteko, is a depiction of Tāne Mahuta."

What a beautiful new space to enjoy Kidsfirst Phillipstown.

Kidsfirst Kindergartens
Head Office, 43 Birmingham Drive, Middleton, Christchurch 8024
+64 3 338 1303email: questions@kidsfirst.org.nz
Postal Details: Kidsfirst Kindergartens, PO Box 8089, Christchurch 8440
KIDSFIRST KINDERGARTENS ARE A NOT FOR PROFIT ASSOCIATION WITH OVER 70 KINDERGARTENS AND EARLY LEARNING CENTRES COVERING CHRISTCHURCH, CANTERBURY, CENTRAL OTAGO, BANKS PENINSULA AND THE WEST COAST - AND HAS DONE SO FOR OVER 100 YEARS
- AS THE PLACE LOCAL KIDS COME TO LEARN, PLAY AND HAVE FUN.