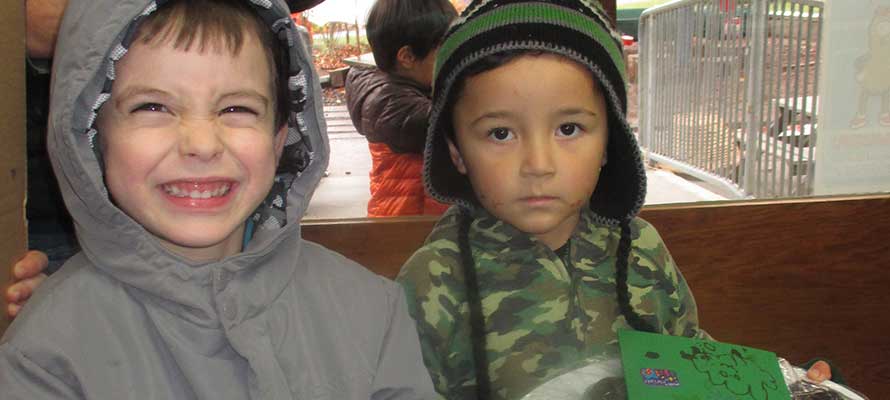 | | | |
| --- | --- | --- |
| | | Caring for our community - the children's visit was the icing on the cake for neighbour Bills 90th birthday! |
OUR TOP STORIES

NEWS FROM AROUND

CENTRAL OTAGO

Encouraging our children to feel a valued part of their community is what kindergarten is all about. A recent community visit from the thoughtful tamariki at Kidsfirst Avonhead left everyone with a very warm-hearted and neighbourly feeling.

Just across the road from the kindergarten neighbour Bill, had an upcoming 90th birthday. Ninety is a very big birthday number and definitely more than littlies can count – even on all of their fingers and all of their toes!

"Teacher, Jane Dorgan and the children decided to bake cupcakes in celebration of Bill's birthday," says Teacher, Cathy Tunnicliffe.

Delicious chocolate muffins were baked in paper cups of red, green and pink and decorated with a dollop of chocolate icing. Several tamariki also decided to make gifts of their own - crafting bits and bobs from this and that - in preparation for a special birthday delivery to Bill.

"After morning tea a group of children and Jane carefully crossed the road to visit Bill and wish him a big happy birthday," says Cathy.

"Bill was very pleased to see us!" says Cathy.

He oranga ngakau, he pikinga wairoa - positive feelings in your heart will enhance your sense of self worth.

A selection of comments from proud parents:

"Such a lovely idea, looks like Bill and the kids loved the experience."

"This warms my heart; he is such a nice man."

"It was so lovely, all the children that went over came back with smiles on their faces. It is so important to teach and show children how much joy kindness can bring to both the recipient and the giver."

"Best story of the year! Love the kind gesture! We so often hear of our elderly neighbours being lonely so I think it's wonderful that the children are learning to keep an eye on potentially vulnerable people. Awesome work!"

"How sweet; William told me about this. He said it was good to give Bill a gift and he was so proud that he made it himself."

"What a lovely and thoughtful gesture. Cillian told us about visiting a man but we only got half the story, I'm sure that visit made Billy's day."

"Fabulous work everyone!! I bet Bill will remember and cherish todays memory for a very very long time!!!"

"I love this story! Jamie talked about it all the way home tonight. I think it's so important that our kids are taught that being a part of a community is important so thanks for helping with this in a practical way,"

"Wow how lovely! And so thoughtful of the children to make their own gifts."

QUICK READ

Kidsfirst Avonhead tamariki put caring for their community into practice with a neighbourly visit to give Bill cupcakes and handmade gifts for his ninetieth birthday.

LEARNING OPPORTUNITIES:

Supporting vulnerable and elderly people within our community gives us all a sense of well being and belonging.

The bicultural principle of whānau tangata (family and community) is woven into our daily lives at kindergarten.

We recognise and incorporate our whānau, extended whānau and community to assist with the learning and development of each child.
KIDSFIRST KINDERGARTENS ARE A NOT FOR PROFIT ASSOCIATION THAT HAS DEVELOPED AND MAINTAINED KINDERGARTENS IN CHRISTCHURCH, CANTERBURY AND ON THE WEST COAST FOR OVER 100 YEARS - AS THE PLACE LOCAL KIDS COME TO LEARN, PLAY AND HAVE FUN.