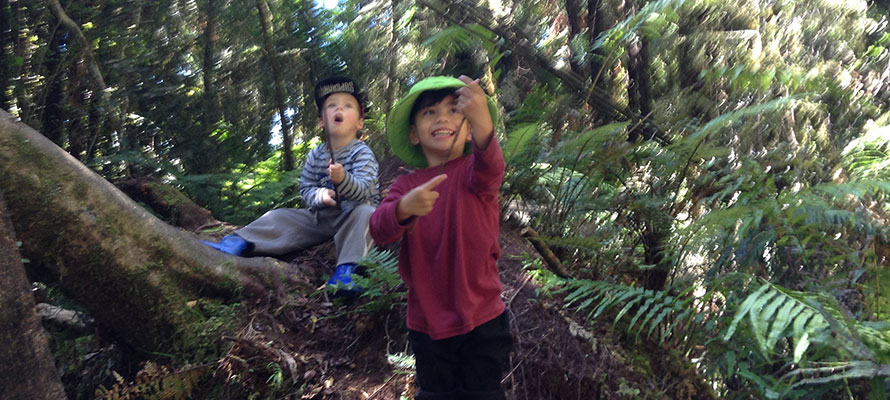 | | | |
| --- | --- | --- |
| | Nothing like an adventure to inspire young minds! Excursions outside the kindergarten gate, help to foster children's connectedness with the community they live in... | |
SOME OF OUR TOP STORIES

Kidsfirst Glacier Country Early Learning Centre are blessed with the best of New Zealands beautiful native forests on their back door step and they take regular bush walks to enjoy it all.

"Exploration within our natural environment is a big part of who we are at Kidsfirst Glacier Country," says Head Teacher, Tracey Hall.

"We often take expeditions into the neighbouring native forest for fresh air, exercise and to allow tamariki to revisit previous experiences and build on their existing knowledge."

Bug hunting, picnics, climbing on fallen trees and 'being at one' with nature are just some of the many different bush adventure highlights.

"We talk about caring for and respecting Papatuanuku/Earth Mother and Te Ngahere/the forest," says Tracey, "and children have the opportunity to explore their surroundings in their own time and way."

Other times it's nice to just nice to sit, relax and listen to stories or tune into the enchanting sounds of the forest – the rustle of leaves in the wind or beautiful birdsong.

"Tamariki use the things they find while they are out and about to act out stories, (little red riding hood) or make links with experiences from outside the centre (fishing)," adds Tracey.

Living next door in the bush is their friendly Piwakawaka (fantail) Jamie, who often joins their adventures or pops over the fence for a visit.

KIDSFIRST KINDERGARTENS ARE A NOT FOR PROFIT ASSOCIATION THAT HAS DEVELOPED AND MAINTAINED KINDERGARTENS IN CHRISTCHURCH, CANTERBURY AND ON THE WEST COAST FOR OVER 100 YEARS - AS THE PLACE LOCAL KIDS COME TO LEARN, PLAY AND HAVE FUN.