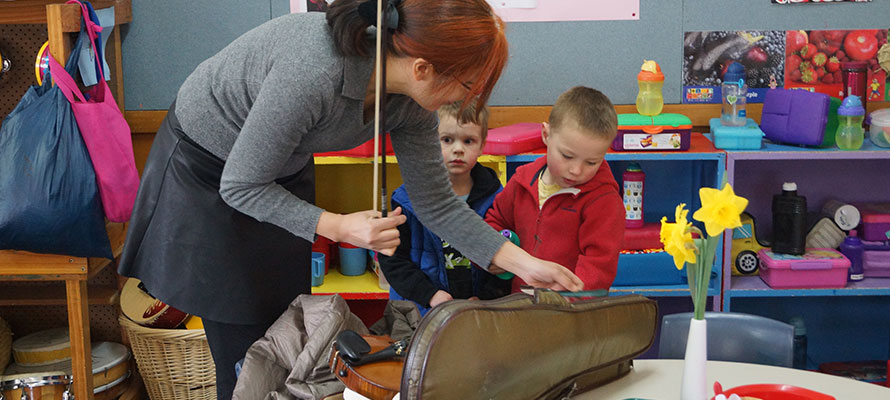 | | | |
| --- | --- | --- |
| | | At Kidsfirst Cotswold Ave they recognise the importance of making it as easy as possible for parents to engage, and stay engaged, with kindergarten life - even when they don't speak the same language. |
OUR TOP STORIES:

It's a big focus for the kindergarten team - Adele, Kirstyn and Shabana - under the strong leadership of Head Teacher Kathy Harford.

"About 25% of our children have English as a second language, so we're constantly looking for ways to get the interest of parents in what's going on at our kindergarten, and keep it. "

Often this can mean asking parents to participate in some way.

"Recently, two parents came and played their instruments for the children," says Kathy.

"Aya, who is originally from Japan, plays the violin. Grace, from Korea, accompanied her on the piano. Since their children have become friends at Kidsfirst Cotswold Ave, their parents have begun to play their instruments together. Neither of them speak a lot of English, but music brought them together. It's just a beautiful thing, how music can bring people together with a common language."

The pair played five songs for their captive audience, including Twinkle Twinkle Little Star, Vivaldi's 'Spring' from The Four Seasons, and the children's favourite song at the moment, Let It Go from Frozen.

The movie tune spurred a whole lot of singing and dancing, and provides a great example of keeping whānau involved with what matters to them, at the level they connect with.

Kathy says that engagement can't just be about the children: "Here at Cotswold Ave, we transition the parents/whānau as much as the children, which I know is common in many of our kindergartens. Choosing early childhood is often the first major educational decision a parent has to make, and we need to make it as comfortable and easy for parents as possible."

Clear evidence of Kathy's passion for this was when a pre-enrolled child visited for the morning with her mother when Grace and Aya were playing. They felt welcome enough to come in and enjoy the fun together, and Kathy really encourages everyone to participate whenever they can.

"As much as you spend your day with the children, you've got to make just as much effort with their whānau. That's what engagement is about - inclusivity."

quick read

Two parents at Kidsfirst Cotswold Avenue have been practising their instruments together. Here, they played a special concert together for the children.
KIDSFIRST KINDERGARTENS ARE A NOT FOR PROFIT ASSOCIATION THAT HAS DEVELOPED AND MAINTAINED KINDERGARTENS IN CHRISTCHURCH, CANTERBURY AND ON THE WEST COAST FOR OVER 100 YEARS - AS THE PLACE LOCAL KIDS COME TO LEARN, PLAY AND HAVE FUN.