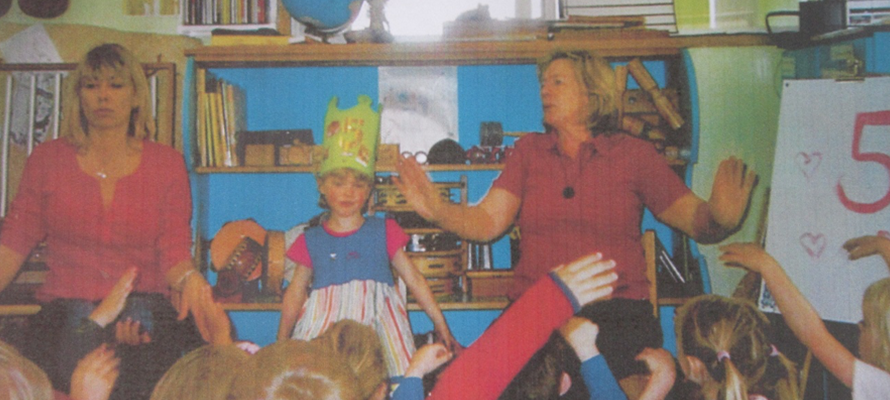 | | | |
| --- | --- | --- |
| | | Former Kidsfirst Mount Pleasant kindy kid Isabelle has a very special memory from kindergarten, and decided to recreate it in a photo... |
OUR TOP STORIES:

Generations of kiwi kids have loved the early years at their local Kidsfirst, each with their own unique and fond childhood memories.

Some details of kindergarten really stick to mind. For former Kidsfirst Mount Pleasant kindy kid Isabelle, now eleven years old, it was the day she celebrated her 5th birthday.

"Recently Isabelle returned with a touching request," say Teacher Vicki Marsh.

As part of a photography course Isabelle was doing at school, she wanted to recreate an old photo of herself and had chosen her 5th birthday photo taken at Kidsfirst Mount Pleasant, all those years ago.

"Turning five at kindergarten is always a highlight for children as they are celebrated for their strengths before they head off on their next journey of learning," says Vicki.

Luckily both teachers were still at the kindergarten! In order to re-create the new photo for Isabelle, the kindergarten space was rearranged to make a similar-looking background.

"We also took a trip to a second hand shop to find old shirts that looked like the ones in the original photo," says Vicki.

This was a particularly special re-enactment considering that Isabelle attended Kidsfirst Mount Pleasant kindergarten before the earthquakes and the more recent photo was taken in the St Marys of Ascension Church Hall, where they have operated since the February quake.

This is testament to how kindergarten plays such a significant role in the lives of children, in both the everyday and on those special days that stay in our memory.

QUICK READ

A 5th birthday is such an exciting milestone, especially being the stepping stone to starting school. Isabelle remembers hers by recreating a photograph taken at Kidsfirst Mount Pleasant.
KIDSFIRST KINDERGARTENS ARE A NOT FOR PROFIT ASSOCIATION THAT HAS DEVELOPED AND MAINTAINED KINDERGARTENS IN CHRISTCHURCH, CANTERBURY AND ON THE WEST COAST FOR OVER 100 YEARS - AS THE PLACE LOCAL KIDS COME TO LEARN, PLAY AND HAVE FUN.