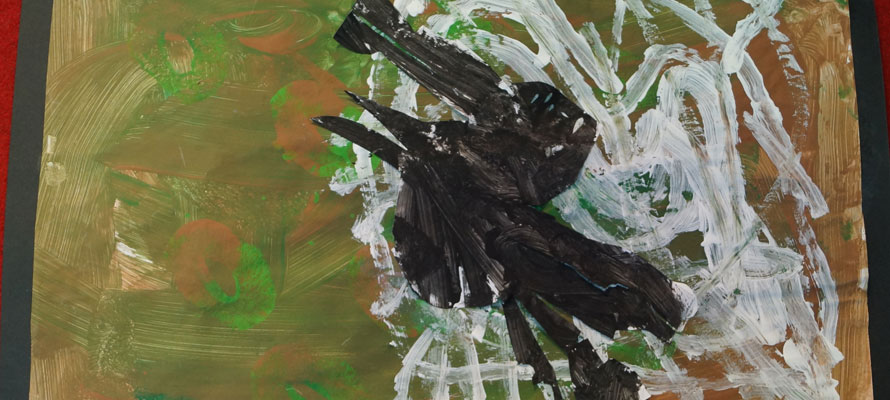 "Nature will bear the closest inspection. She invites us to lay our eye with her smallest leaf, and take an insect view of its plain."

Henry David Thoreau 1817 - 1862
OUR TOP STORIES

NEWS FROM AROUND

CENTRAL OTAGO

Kidsfirst teachers strive to create opportunities for children to connect with nature. The more children understand about the living world, the more they will widen their perspectives, overcome their fears and respect their environment.

Kidsfirst Alexandra took a close look at spiders and created some wonderful artwork in the process of learning more.



Teacher, Vicki Hishon brought several plant cuttings to kindergarten. They were ones on which spiders had spun their silk parcel nests, and came from the hills behind her home.

Vicki and the children discussed why spiders chose different plants to attach their nests to and why the silk parcels looked like cotton wool balls. Some had holes in them - that's how the spiders got out after hatching.

The children showed great care for the little spiderlings and their habitat, gently passing the plant cuttings to the next child in the circle.

After reading "Are you a spider?" by Judy Allen, the children developed a new appreciation for spiders and saw the world through the creatures' eight eyes.

"We came back to the silk parcels after morning tea, and found that one had hatched!" says Vicki, "then we found them making webs around kindergarten and started to investigate further."

Knowing how important a spider's silk thread is, the children watched one dangle from the window and drift in the breeze.

Where previously some children were nervous about nearby spiders, now delight came over faces as one spider was found crawling on the wall and one in the grass outside.

It was wonderful to hear one of the children yell out "I just love spiders now, they are soooo cool! I'm not scared of spiders anymore."

The children not only discovered more about spiders, they developed a curiosity about the mini beasts and have continued to seek out information through books, insect life cycles and a kindergarten farm trip.

That's how Kidsfirst Alexandra, shows manaaki whenua - care for the soil, plants animals and people inhabiting the land.

Here are a couple of the artworks the tamariki painted after observing spiders closely and learning more about how they live:

QUICK READ

At Kidsfirst Alexandra, children became fascinated by the world of spiders.

The kindergarten has a preserved tarantula in a display case which caused much discussion.

The learning opportunities extended beyond the insects themselves into the painting and creative expression the tamariki showed in their expoloration of the Mini Beasts.
KIDSFIRST KINDERGARTENS ARE A NOT FOR PROFIT ASSOCIATION THAT HAS DEVELOPED AND MAINTAINED KINDERGARTENS IN CHRISTCHURCH, CANTERBURY AND ON THE WEST COAST FOR OVER 100 YEARS - AS THE PLACE LOCAL KIDS COME TO LEARN, PLAY AND HAVE FUN.