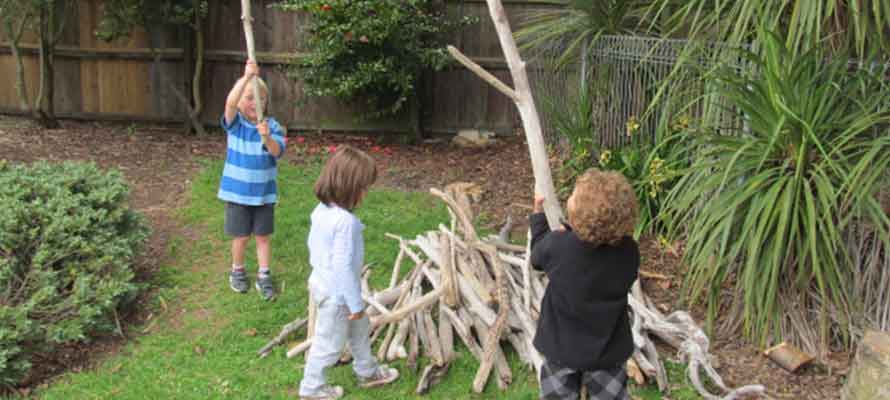 | | | |
| --- | --- | --- |
| | | Kidsfirst McKenzie have spent the last few years making gradual changes to their outdoor learning environment with a particular focus on improving natural spaces for children. |
SOME OF OUR STORIES

After a recent sustainability review, the children and teachers at Kidsfirst McKenzie have been thinking about the environmental impact of what they do every single day. This has had a huge impact on the kindergarten's philosophy regarding reusing materials and making use of what they already own.

Children and teachers thought the idea of building a whare was very important, but the cost of design and the impact on the environment were all factors that they could not ignore, according to teacher Marilyn Gray.

They needed to think outside the box, and that's definitely what they ended up doing!

Instead of building with new components, the children gathered materials from Papatūānuku (Earth Mother) and used only what they needed.

Marilyn Grey said, "We used a part of the playground which had already been planted with natives by a parent from several years ago. Really, it was all there for us to use… why would we want to change it? This type of thinking has resulted in a change of direction which took us along a more natural, hands-on and sustainable path – in other words we have done it ourselves!"

The children at the kindergarten were actively involved in the construction of the whare and are still now responsible for its ongoing maintenance.

This te ngahere (the bush) that you can see them building with has come about through exploring using natural materials and weaving Maori legends into their play.

Marilyn says that using the iPads to take photos and explore their work has extended the children's learning a great deal.

"Other plans for the area include adding a wooden fence, constructed again from driftwood to surround te ngahere. This will soften the current look of the metal fence. We have a few other ideas floating amongst the teachers as we continue to learn more about our area and what is was like in the past."

WHAT DID

(AND WILL)
THE CHILDREN LEARN?

According to Kidsfirst McKenzie teacher Marilyn Gray:

The idea of the whare has been around for several years. Our original goal was to have one designed and built – we had also thought about using the services of a landscaper or playground designer, but cost was a significant factor which prevented us from doing so.

The children are using natural materials, contributing ideas, problem solving and developing an appreciation for the natural environment. They have also been exposed to the idea of what can be achieved without having to spend money.

We have an extensive collection of Maori myths and legends. The children love these stories and know them well. Te ngahere sits perfectly alongside the children's interests and learning of Te Reo, and our commitment to implementing a strong bicultural programme as well.
KIDSFIRST KINDERGARTENS ARE A NOT FOR PROFIT ASSOCIATION THAT HAS DEVELOPED AND MAINTAINED KINDERGARTENS IN CHRISTCHURCH, CANTERBURY AND ON THE WEST COAST FOR OVER 100 YEARS - AS THE PLACE LOCAL KIDS COME TO LEARN, PLAY AND HAVE FUN.