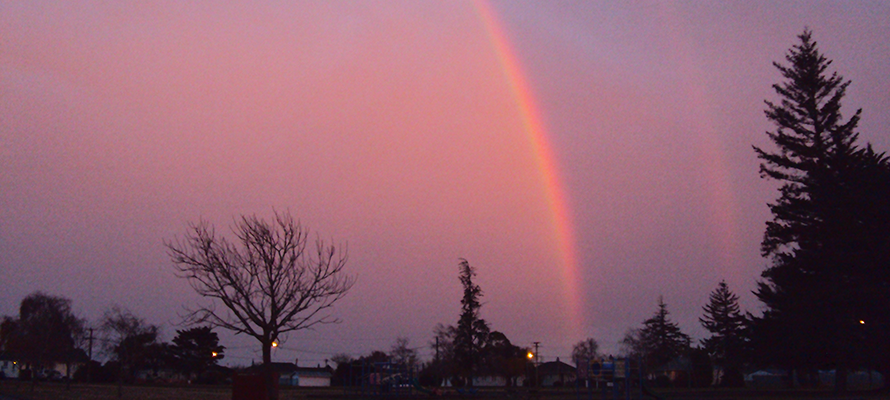 | | | |
| --- | --- | --- |
| | | Sunrise paints a rainbow over Kidfirst Burnham for Matariki celebrations... |
OUR TOP STORIES

NEWS FROM AROUND

CENTRAL OTAGO

A day of Matariki celebrations started with an amazing morning sunrise, and a double rainbow over Kidsfirst Burnham kindergarten.

"Experiencing the Rainbow gave us a meaningful opportunity to explore a wide range of new learning opportunities, taking us to looking a little closer at planets within our solar system," says Teacher, Mark Lewis.

Dark spaces and twinkling star constellations were created at the kindergarten for visual experiences, and children enjoyed creating their own bright stars from a range of natural materials.

"As part of celebrations we have shared many stories of Matariki, introduced a beautiful waiata 'Nga tamariki o Matariki', as well as created kites both individually and in groups."

The kindergarten have also shared kai together, prepared vegetables to roast, and enjoyed a Hangi meal with whānau/families on 'Disco Night.'

The focus on Matariki and the solar system is still continuing says Mark, "We are now observing children engaging in and taking on the role of ako - being responsible for their own learning and sharing their newly gained knowledge with others."

What fantastic ways to observe Matariki - our truly unique New Zealand celebration.

QUICK READ

A rainbow at sunrise over Kidsfirst Burnham inspired some interesting exploration into the eight planets and millions of stars suspended in our solar system.

DID YOU KNOW?

A star is a giant ball of gas.
Stars form when clouds of dust and gas swirling through the universe collect together.
As more dust and gas collect together it becomes heavier and heavier.
The heavy 'mass' starts to swirl and become hot.
When it becomes really big and really hot, it becomes a star - a process called nuclear fusion.
KIDSFIRST KINDERGARTENS ARE A NOT FOR PROFIT ASSOCIATION THAT HAS DEVELOPED AND MAINTAINED KINDERGARTENS IN CHRISTCHURCH, CANTERBURY AND ON THE WEST COAST FOR OVER 100 YEARS - AS THE PLACE LOCAL KIDS COME TO LEARN, PLAY AND HAVE FUN.