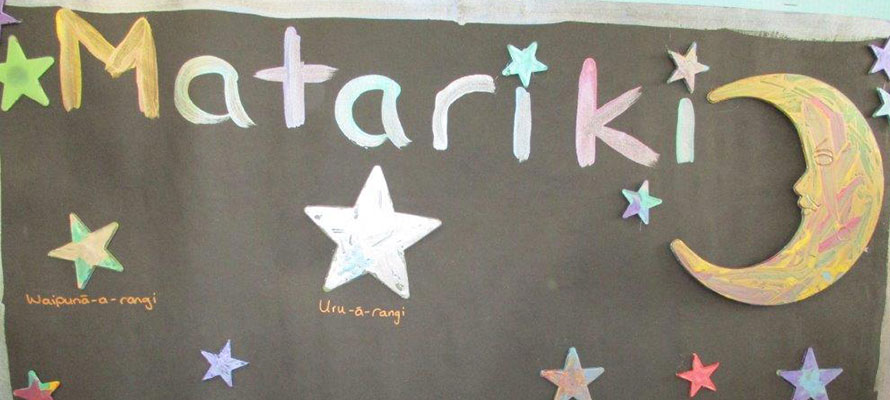 Matariki is a time to celebrate.

Matariki, the Māori New Year is a time to celebrate new beginnings and to acknowledge the past while we look to the future. It's a great opportunity to bring people together and to learn more about our cultural heritage at kindergarten.
SOME OF OUR TOP STORIES

The Matariki star cluster, also known as the Pleiades, is a kaitiaki (guardian) of the year to come. When the seven star cluster of Matariki rises in the early winter dawn sky, it is time to celebrate a new year, the natural world, the togetherness of whānau, and new beginnings…

Our Māori ancestors used Matariki (as well as other stars and natural signs) to navigate across the Pacific Ocean to Aotearoa. Matariki literally translates to 'eyes of god' (mata ariki) or 'little eyes' (mata riki).

Legend has it that Matariki determined how successful the harvest crop would be in the coming season 'the brighter the stars, the warmer the season would be, bringing a more productive crop'. This association of Matariki with crops has given rise to the saying: 'Matariki ahunga nui' - Matariki provider of plentiful food.

Traditionally, Matariki was also a time to honour and tell stories of those past, to celebrate a time of plenty when stores were abundant from horticulture, hunting and fishing, to dance and sing, play games or make kites.

Māori were expert kite makers and flyers and these traditions are embedded in the vibrant, dynamic celebrations of Matariki. Kites were used to test skills in competition or for light hearted fun. They also had a spiritual significance, symbolising the connection between heaven and earth.

Most kites were constructed from New Zealand native plants like toe toe or raupo and decorated with huruhuru (feathers) and paua shell 'mata' (eyes).

Matariki is a truly uniquely New Zealand celebration and as an organisation that is 100% New Zealand owned, our teachers take huge pride in celebrating with children in as many distinctive ways as possible.

Creating brightly-coloured, hand-painted stars, relishing toasted marshmallows over a cosy campfire, making kites, enjoying hearty vegetable soup (from the bountiful kindy garden harvest). Reading 'Matariki' stories, learning new haka and waiata (song), sharing kai, a hangi or a disco are just some of the many vibrant ways our teachers capture children's imaginations during Matariki celebrations.

Kidsfirst Vickery Street celebrates Matariki with stars, waiata (song) and dance.

Bright hand-painted stars for Matariki at Kidsfirst Wigram.

Kidsfirst Shirley families enjoy a toasty campfire on a crisp winters night.

Kidsfirst Nuffield invited extended whānau for their kindergarten celebrations.

Exploring Tōku Pepena (my tribe/ancestors) at Kidsfirst Lady May.

Kidsfirst Burnham families shared kai from a hangi (earth oven) and created handmade stars and kites for Matariki.

What the children learn - from Rachel Ryan at Kidsfirst Nuffield:

Educating, connecting communities and stimulating children's imaginations are all opportunities that Matariki brings. By celebrating Matariki the tamariki have the opportunity to learn some principles of tikanga (meaning and custom):

Ūkaipōtanga

– taking strength from where we come from, who we are and what we have around us.

Kaitiakitanga

– sustainable practice including connections with the land culture and heritage.

Kotahitanga

– all are encouraged to make their contribution– all on board the same waka!

Whanaungatanga

– appreciating that the contributing factors and components necessary for learning and sharing are people and relationships.
Information including that about fees, services and promotional activities were correct at the date of publication of news stories but may since have changed. Please check with us to ensure information is current.