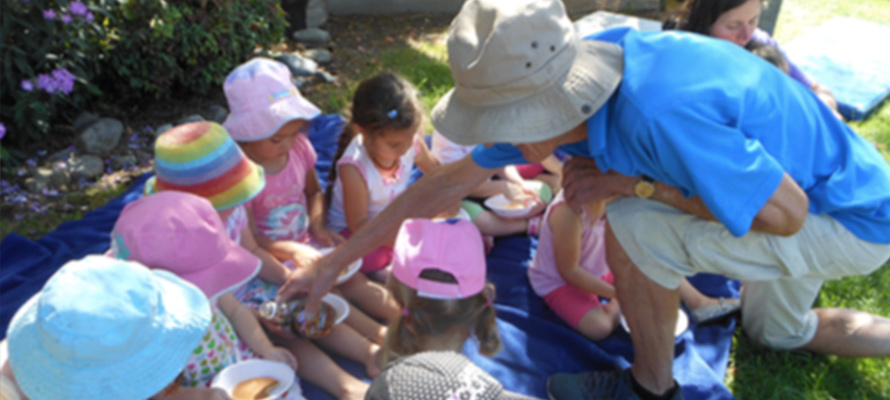 | | | |
| --- | --- | --- |
| | Don Pidhirny is the best kind of grandparent helper a kindergarten could have, happily lending a hand to tamariki and teachers alike... he shares that sense of community/family that we treasure. | |
SOME OF OUR TOP STORIES

We're so fortunate to have so many wonderful people happy to give of their time and talents at kindergarten.

Kidsfirst Bush Street recently celebrated ten years of Don's fantastic volunteer work at kindergarten with a family lunch and a celebration cake decorated by the children.

"He's a valued and loved member of our Kidsfirst Bush Street whānau," says Anne.

A man of many talents, Don is part of the family at both Kidsfirst Bush Street and Kidsfirst Mairehau (where he first came along to help his grandsons Henry and Oskar at the carpentry table).

He helps to bring out the budding builder or engineer in children with his elaborate wood, ice blocks sticks or bottle top creations. Children have helped to paint Don's shoes to match his bowling ball and especially love the sweetpea tepee he built in the garden, that is often admired by whānau and visitors.

"He has made special connections with many children and it is great to have such a wonderful person in our lives," says Kidsfirst Bush Street Head Teacher, Anne Smith.

Tamariki and families have lots of positive things to say too…

"Don is our friend and he helps me build whatever I want."

"My son Harry proudly came home with an impressive custom-built plane, and told me his friend 'Don' helped him make it."

And parent comments on Kidsfirst Facebook -

"Grandad Don is a legend! My boys simply love him, his enthusiasm and energy. What a wonderful man."

"Don has made such an impression on so many children over the years. Watching him it is clear he enjoys his days at kindy just as much as all the children he works with each week (maybe even more)."

After arriving back from a recent trip to Canada, Don kindly bought maple syrup to kindergarten for children to try atop pikelets – yum!

Thanks Don! We really appreciate all the help you give the children and helping to improve our environment. It is people who come and give their time so freely to our kindergartens and contribute so much that make them such special places.
Information including that about fees, services and promotional activities were correct at the date of publication of news stories but may since have changed. Please check with us to ensure information is current.