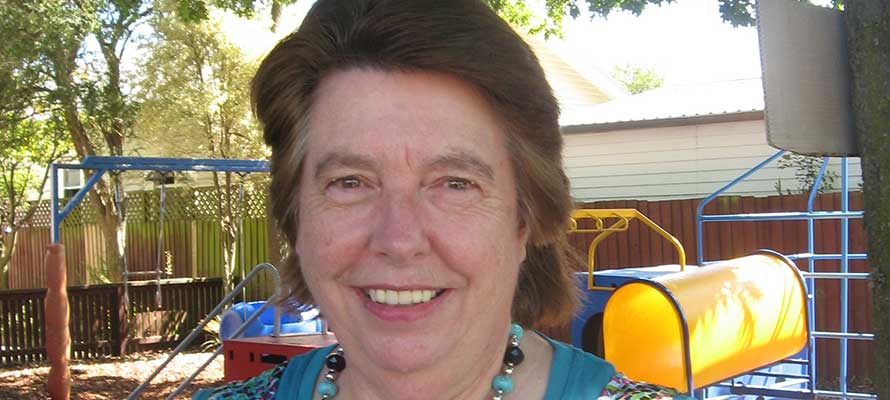 | | | |
| --- | --- | --- |
| | | The winds of change bring a new opportunity for one of our experienced Kidsfirst head teachers... |
OUR TOP STORIES

NEWS FROM AROUND

CENTRAL OTAGO

We are excited to share the brand new role of an inspiring member of the Kidsfirst team, Margaret McCormick. After over 25 years teaching – and head teaching – at Kidsfirst Hillmorton, she is experiencing a year with a difference, as an Additional Learning Support Teacher for Kidsfirst.

Margaret will continue doing what she is most passionate about – working with our youngest learners – but through a part-time role across two kindergartens, Kidsfirst Hargest Crescent and Kidsfirst Mathers Road. She's relishing the chance to be involved in another aspect of Kidsfirst, while enjoying a break from head teacher duties and a chance to explore other interests.

"I am really pleased to have the opportunity to work with different Kidsfirst teaching teams and kindergarten communities, to be able to build some new professional relationships and to see and learn different ways of doing things," says Margaret.

As an Additional Learning Support Teacher, Margaret works with children on an individual or small group basis to support their learning. She also works closely with the two kindergarten teams, enabling them to focus some of their time with the children they have identified as requiring a little extra support.

"I'm very fortunate that I can use my previous teaching and learning experiences working with children and kindergarten teams in this way, and can continue to learn myself. I'm proud to be making a positive contribution to these kindergartens, knowing that together with our Kidsfirst team, we can make a difference for the children we work with."

She says it has been a big change and she thinks of the Hillmorton whānau often, "I take with me many special memories of my time teaching at Kidsfirst Hillmorton, but with change comes new opportunities which I am also really enjoying".

We are delighted that one of our more experienced head teachers is staying on, spreading her dedication, professionalism and passion further around our network, and we wish her all the best in her new role within Kidsfirst.

QUICK READ

Kidsfirst Hillmorton Teacher and Head Teacher of over 25 years, Margaret McCormick is embarking upon a new Kidsfirst adventure this year.

She has taken up a role as Additional Learning Support Teacher - working with two Kidsfirst kindergartens - Kidsfirst Hargest Crescent and Kidsfirst Mathers road

She is enjoying teaching and learning with the added new experiences of working with different teaching teams, communities and ways of doing things.
KIDSFIRST KINDERGARTENS ARE A NOT FOR PROFIT ASSOCIATION THAT HAS DEVELOPED AND MAINTAINED KINDERGARTENS IN CHRISTCHURCH, CANTERBURY AND ON THE WEST COAST FOR OVER 100 YEARS - AS THE PLACE LOCAL KIDS COME TO LEARN, PLAY AND HAVE FUN.