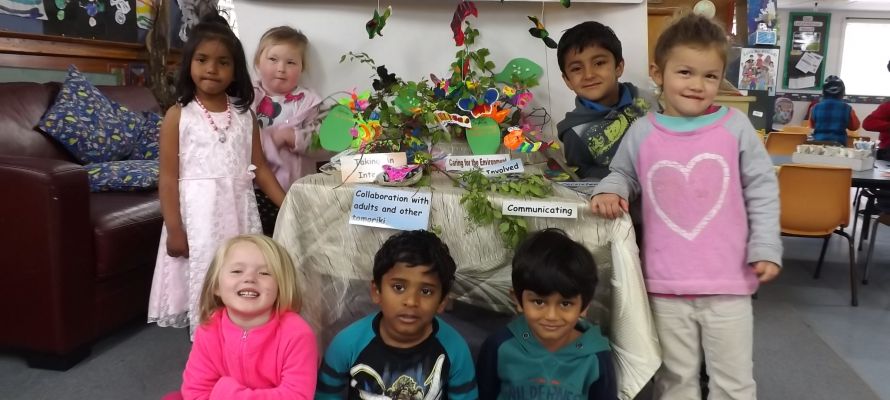 | | | |
| --- | --- | --- |
| | | Kidsfirst Richmond butterfly art to feature in a movie based on the book 'The Changeover' a supernatural young adult thriller by renowned author Margaret Mahy... |
OUR TOP STORIES

The magic of the late Margaret Mahy's 1984 novel is brought to life in this feature film adapted to tell the story of a devoted sister who loses her brother in the Christchurch earthquakes.

Filmakers say post-earthquake Christchurch is the appropriate location to make the movie as it was Mahy's hometown, the original book was set in Christchurch, while the ravaged and regenerating landscapes mirror the lead characters 'transition' throughout the story.

Kidsfirst Richmond was the closest kindergarten to the location of some of the earthquake backdrops in 'The Changeover's' filming. Tamariki at the kindergarten were invited to create colourful illustrations of caterpillars, cocoons and butterflies to use in a terrarium (like a glass aquarium but for plants) and to feature as part of one of the film sets.

Kidsfirst Richmond Head teacher, Liz Hinchey says they were thrilled to be asked to contribute and excited to start their vibrant butterfly art. She explains, "tamariki often observe and draw monarch butterflies when they are in season at the kindergarten, but it's not the right time of the time of the year."

"Instead children observed butterfiles from different insect books - and the very hungry caterpiller - so the usual authentic colours of black and orange were replaced with multi-coloured, iridescent beautiful butterflies."

Originally set designers asked if the butterflies could be life (actual) size, but teachers had to explain children of kindergarten age draw and create things 'larger than life' as they are still honing their fine motor skills.

Rather, the children's larger butterflies painted in luminous, colourful palettes were carefully cut to a smaller size and nipped together in the centre with string to fashion these true to size winged creations.

For a display at the kindergarten (before they were collected for use in the film set) the butterflies were flaoted against a white background atop a garland of green leaves and twigs, festooned with green cocoons and crawling with stripy cardboard caterpillars.

"We included in our display words to describe the teaching strategies and learning outcomes for the children too, " says Liz, "like caring for the environment, being involved, concentration, taking an interest, collaboration with adults and other tamariki, communication and persistence."

Butterflies are strongly symbolic of transition. Caterpillar to cocoon to emergence as a butterfly. And always fascinating for children. The significance of butterflies to the film is the link to transformation and metamorphosis - much like Christchurch city is emerging from one state to another after earthquakes.

Beautifully done Kidsfirst Richmond!
KIDSFIRST KINDERGARTENS ARE A NOT FOR PROFIT ASSOCIATION THAT HAS DEVELOPED AND MAINTAINED KINDERGARTENS IN CHRISTCHURCH, CANTERBURY AND ON THE WEST COAST FOR OVER 100 YEARS - AS THE PLACE LOCAL KIDS COME TO LEARN, PLAY AND HAVE FUN.