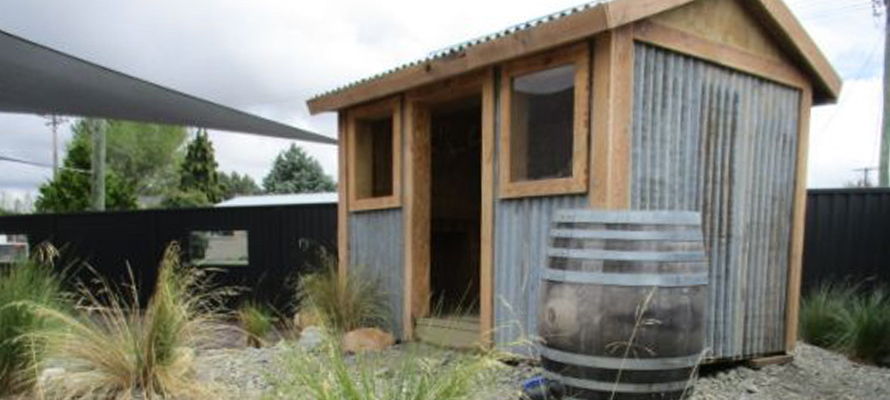 Musterering up some local connection in the back yard...
To reflect the rural lifestyle of many of the tamariki at Kidsfirst Maniototo the community got together to build their very own kindergarten musterer's hut, in a nod to the area and their farming heritage.

FIND OUT WHY WE'RE JUST BETTER BECAUSE...

Gathering lifestock together on the large expanses of a farm is hard work. A musterer's hut is a welcome reprieve from the elements throughout the seasons – providing shade from brown, sunburned landscapes at the height of summer and snug comfort in the snowy depths of winter.

"The hut was built with recovered materials like corrugated iron and wood collected and donated by local families," says Kidsfirst Maniototo Head Teacher, Deb McNally.

Perched on the top of a rocky mound in their outdoor area, it's a popular spot for children and adults alike. Authentic too. It comes complete with a replica fireplace, camp oven and a bench seat to take a load off.

Antlers adorn the wall and, outside, the shed is surrounded by native tussocks, as well as rock and shingle that is found in the natural high country landscape.

"It depends on the season what's happening in our kindergarten musterers hut," says Deb. "During spring, tamariki make a beeline for our beautiful wooden hand pieces and get busy 'shearing' sheep just like Dad and the gang of shearers at home on the farm."

"We've had drought conditions in Otago with an extremely hot and dry spell since December," says Deb. "The temperatures have been intense, with our grass area baked and crunchy. The musterers hut is a cool place to escape the heat."

A large, fallen willow log brought in from a family farm for climbing on and a dry, stony riverbed with a water barrel and tap at the top (that children can 'manage' like irrigation on the farm) are other fantastic features of Kidsfirst Maniototo's big backyard.

.

Kidsfirst Kindergartens
Head Office, 43 Birmingham Drive, Middleton, Christchurch 8024
+64 3 338 1303 email: questions@kidsfirst.org.nz
Postal Details: Kidsfirst Kindergartens, PO Box 8089, Christchurch 8440
KIDSFIRST KINDERGARTENS ARE A NOT FOR PROFIT ASSOCIATION WITH OVER 70 KINDERGARTENS AND EARLY LEARNING CENTRES COVERING CHRISTCHURCH, CANTERBURY, CENTRAL OTAGO, BANKS PENINSULA AND THE WEST COAST - AND HAS DONE SO FOR OVER 100 YEARS
- AS THE PLACE LOCAL KIDS COME TO LEARN, PLAY AND HAVE FUN.