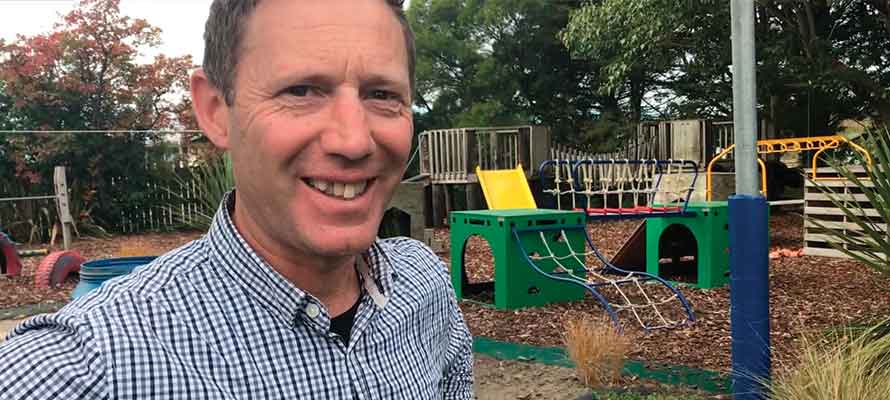 | | | |
| --- | --- | --- |
| | There's recently been a lot of talk about the need for more male teachers in early childhood, from newspaper articles, to education-wide papers, to lobbying the Government... | |
SOME OF OUR TOP STORIES

This renewed interest in encouraging the number of male teachers in early childhood seems to come from a convergence of factors.

On one hand, in today's society many fathers are missing from the day to day lives of tamariki. Conversely, many other fathers are taking a much greater role and increased interest in their children's early education.

Alongside both these trends is the continually growing acknowledgement of teaching as a valid vocation for men and the corresponding value that a diverse teaching staff can contribute to a ECE environment.

However, over recent years many early childhood providers (including the Early Childhood Council) have bemoaned the shortage of good, trained male teachers, especially in early childhood and primary school roles.

Male teachers in early childhood services has hovered around the 1-2% level for many years but it is now showing signs of increasing. This is due in part to an increased focus on diversity, addressing gender bias and recruitment efforts to get more males into the sector.

Ministry of Education statistics show that the number of male teachers has grown substantially (potentially as much as 30%) in the past ten years. This is a trend across the world, with the proportion of male teachers in western countries being roughly comparable to those in New Zealand but steadily increasing.

At Kidsfirst Kindergartens, we have always been proud to have a number of qualified, experienced male teachers and welcome new teachers into the fold. Our first male teacher joined our Association back in the 1970's, when the vocation was almost entirely female-driven.

Our teachers' responses to what men add to the kindergarten environment speak more to choice and diversity, rather than any male/female split or traditional stereotypes.

However, as longtime Kidsfirst teacher Peter Fleming adds, "we make up half the population but that's not reflected in kindergartens and early learning centres. Children need to see that it's a normal thing for men to be caring and working with young children and be part of their education and part of their lives."

"We want to see more men. We want to see good teachers who are men," he says.

Studies show that a more diverse teaching team – inclusive of male teachers - helps lift the quality of early childhood education. Parents agree. Overwhelmingly, families strongly support male teacher involvement seeing it as hugely beneficial to young children's learning and social development.

Teacher, Mark Lewis (pictured above) at Kidsfirst Burnham is passionate about his work and believes, "it is important to have male teachers at kindergarten so all children get an opportunity to have a consistent, positive male role model in their lives."

"A male perspective adds difference, diversity and dynamism to a teaching team that in turn supports all children's learning and development."

Duncan Fisher, Head Teacher at Kidsfirst Isleworth Road believes male teachers at kindergarten helps normalise their role in the education and care of young children.

"Males bring a perspective that can enhance the programme and children's learning experiences, and often have more tolerance towards risk taking and robust play."

Head Teacher at Kidsfirst Hawthornden, Catherine Gerslov-Wright agrees that male teachers bring a different perspective, but it's hard to put a finger on exactly what.

Having worked with a male presence in the kindergarten, Catherine says that men bring a slightly different way of dealing with children. She says that while male and female teachers have gone through the same training and gained many of the same skills there's a different way of 'being with children' and having a mix of both is hugely beneficial to an early learning environment.

At our Tongan immersion early learning centre, Kidsfirst Niu, Teacher Latu Filiai is not only fluent in Tongan and English but also a talented musician. He brings fun, his guitar and an encouraging voice to mat time. "Let me see all of your smiling faces and hear all of your beautiful voices."

Teacher Manjit Singh at Kidsfirst Templeton says, "It's good to have multiple male role models in the lives of both boys and girls and for children to relate to men, other than their fathers or extended family. It broadens the perception of what a man can and will do and it's good to see men working in a non-traditional role."

He adds that it also helps to make some of the fathers more comfortable, not entering an entirely female-dominated environment. "When the fathers come into the kindergarten they are more comfortable and will share their concerns and what they expect for their children."

Head Teacher at Kidsfirst Templeton, Trish Ralston says that it really does make a difference with whānau. She notes that when they recently went on a trip they had more Dads coming along than Mums, "…which is indicative of the work that Manjit does."

"All of us, we work together," says Manjit. "People wonder if I find it hard to work with all women, but when you're a professional, you do not think that. When you're working with good people, men or women, it makes everyone feel welcome."

Over on the West Coast at Kidsfirst Karoro, Tim Eden-Calcott is welcoming visitors and whipping up a batch of muffins with the children for morning tea when we touch base. He's a little too busy to talk but we know his West Coast kindergarten community hugely appreciate the upbeat, fun input he brings to kindergarten every day.
Information including that about fees, services and promotional activities were correct at the date of publication of news stories but may since have changed. Please check with us to ensure information is current.