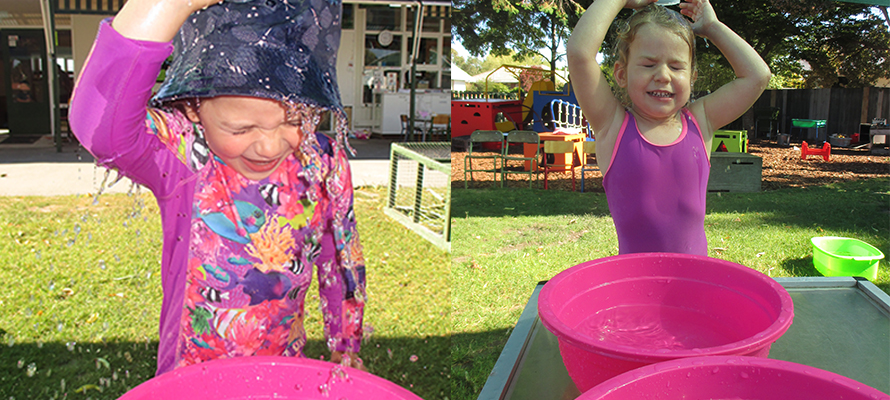 Tamariki make a splash
Our inspirational Kidsfirst teachers are always on the look out for fun ways to experience new things at kindergarten. Kidsfirst Wales Street came up with some fun outdoors water activities to cool off and beat the summer heat.

FIND OUT WHY WE'RE JUST BETTER BECAUSE...

During a long stretch without a drop of rain and with the mercury hitting over 30 degrees some days in Canterbury, tamariki at Kidsfirst Wales Street were invited to bring their togs for a 'crazy water day'.

"Tamariki had to run through the sprinkler, sit in a tub of water, tip a cup of water over their head and finally scoop a jug of water and run with it to fill up a bucket," explains Head Teacher, June King.

"Many tamariki started off tentatively but by the end of the morning their confidence was overflowing."

What a fantastic challenge and a great way to try something new, while staying cool in the summer heat!

.

Kidsfirst Kindergartens
Head Office, 43 Birmingham Drive, Middleton, Christchurch 8024
+64 3 338 1303 email: questions@kidsfirst.org.nz
Postal Details: Kidsfirst Kindergartens, PO Box 8089, Christchurch 8440
KIDSFIRST KINDERGARTENS ARE A NOT FOR PROFIT ASSOCIATION WITH OVER 70 KINDERGARTENS AND EARLY LEARNING CENTRES COVERING CHRISTCHURCH, CANTERBURY, CENTRAL OTAGO, BANKS PENINSULA AND THE WEST COAST - AND HAS DONE SO FOR OVER 100 YEARS
- AS THE PLACE LOCAL KIDS COME TO LEARN, PLAY AND HAVE FUN.