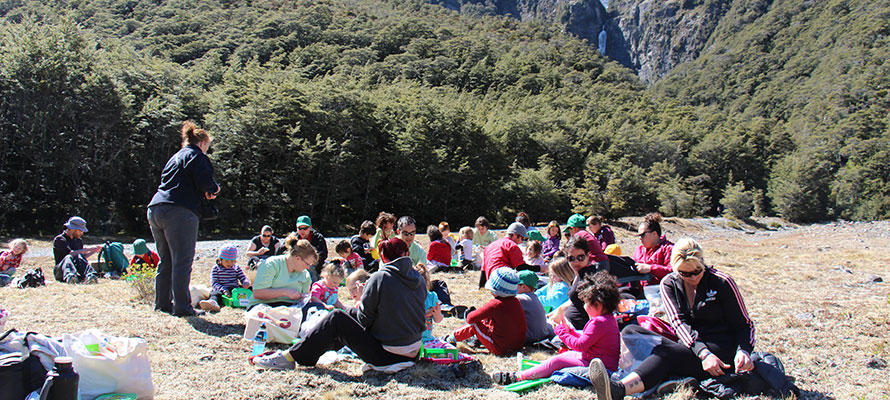 | | | |
| --- | --- | --- |
| | | There's always so much to see, learn and do at Kidsfirst kindergartens - and outdoor excursions are a great way to add excitement and adventure to this learning. |
Children experience so many benefits from outdoor learning; opportunities to touch, to smell, to walk, to climb, to explore - to experience their world first-hand. There's so much to discover immersed in the wonderment and awe of nature and a trip outside the classroom is remembered long after the visit.

That's why excursions have always been, and will continue to be, a special part of the Kidsfirst experience. What better way for children to learn more about different environments than by visiting them?

Kidsfirst MacFarlane Park decided to do just that when they took a bus to scenic Arthur's Pass on an adventurous day trip, combining a wonderful community event with an array of outdoor learning opportunities.

Usually, trips like this happen during term time but the Kidsfirst MacFarlane Park team and whānau were so excited about the possibilities that it was scheduled for the term break.

It's a fantastic example of the kinds of experiences happening across all 62 of our Kidsfirst kindergartens.

Arthur's Pass National Park, with its stunning mountain and river landscape, is hidden in the heart of the Southern Alps between Canterbury and Westland, and is renowned for its natural beauty, plant and bird life. It made for a wonderful, memorable Kidsfirst day out.

The trip was arranged as a special way to thank and farewell former Kidsfirst MacFarlane Park teacher Fiona Neale, who now lives in Arthur's Pass. Teacher Jane Barnes, who was responsible for organising much of the trip, knew it would take a lot of planning, but had a, "why not? Let's do it," attitude.

Huhana Carter, one of Kidsfirst's two Māori Education Advisors, began the trip with a karakia (prayer). Then with much excitement it was time to hop on the bus!

Kathryn O'Connell-Sutherland, Education Service Manager (ESM) for Kidsfirst MacFarlane Park, drove behind the bus in a small, white emergency car. She reflected that, "a most powerful image from the day was the bus with our taonga (treasure) leaving the kindergarten - it was a 'community on the move.' What a privilege to look on at such a special event and imagine the various experiences and chitter-chatter going on inside the bus with our kindy kids and their whānau."

On board there were individually named bags for each child, containing a pencil, snacks and a water bottle, including kowhaiwhai-patterned stickers representing the Kidsfirst value of 'participation.'

As the children peered out from the windows of the bus the adults had them engaged in learning conversations about what they could see. There was a photo booklet to complete, designed to keep little ones entertained and busy throughout the two-and-a-half hour bus trip and also serving as a souvenir of their day to take home.

Rain had been forecast but it turned out to be a beautiful, clear, calm day. They travelled along the West Coast Road with a stop along the way for a morning tea of home-made muffins beside Lake Lyndon.

Arrival meant the chance for adventure. Like when children were safely supported to cross a swing-bridge, with one child managing the stop/go sign with the help of his Dad (an example of ako – teaching and learning at the same time).

Kathryn noted, "There was opportunity for peaceful moments, space, exploration and risk in the natural environment and for many, a challenging climb up numerous steps to the waterfall."

The children heard from knowledgeable locals how Arthur's Pass was home to some of our native kiwi. In the forest they saw the entrance to a kiwi burrow, learnt about their natural habitat, got to feel a kiwi feather, and learnt how predators like stoats, can kill kiwi. Amongst the green of the forest the children and adults took off their shoes to feel the soft, green moss underfoot.

To the children's delight a kea, the local native alpine bird, visited the group while everyone was eating lunch.

Jane talked about having a real sense of triumph about the trip, saying, "it couldn't have gone any better. Everyone: children, adults and teachers alike really enjoyed the day together."

"I got to feel like a kid for the day," said one parent. Another added, "I've been a little bit scared to leave the city since the earthquakes, but my mind was soon at ease. It truly was an amazing experience."

Children recalled, "I climbed a mountain" and, "I threw stones into the water." What wonderful examples of how learning goes hand in hand with adventure and fun times.

Jane says, "It was made all the more successful because of the people and relationships we have: Chandra, Gae and Kathryn from Birmingham Drive, Huhana Carter, our important link between Head Office, kindergarten and community, and our previous relieving head teacher Rosemary White who was especially invited by the children. Our team here at MacFarlane Park – Anita Stowell, Maryann Jassem, and Tania McDonald were phenomenal. It was just great."

Kathryn chips in, saying, "Jane's passion, creativity and organisation was inspiring. There was no stone left unturned, and even Cory the penguin, from the puppet show at The Antarctic Centre the children had just visited, had made his way to Arthur's Pass to be with the children. A real highlight for each child was finding their named package in the treasure hunt with their own soft penguin, who was just like Corey."

"Jane did an incredible job and it was such a fantastic example of the Kidsfirst At Our Heart Values: proud of where we work, inspired to inspire others, keeping whānau connected and involved in what happens at kindergarten, passionate about going the extra mile, and engaged in children's learning from every aspect."

The manaakitanga (caring and respect) for the entire trip was strong and inclusive, with a wonderful sense of collective responsibility and group unity. What a fantastic example of Kidsfirst fostering connections, both old and new. A big thank you to everyone who believed we could really make it happen and for bringing such a wonderful day to life!

QUICK READ

Kidsfirst MacFarlane Park teachers and families had a fun and adventurous day out - on a bus trip to scenic Arthur's Pass.

It was the first excursion of its kind, being outside of kindergarten hours during the term break holidays...and it couldn't have gone better.

family fun in arthurs pass

Why not take a day trip or weekend away in Arthur's Pass for some family fun yourselves?

Arthur's Pass National Park is a two hour drive from Christchurch on SH73 towards the West Coast.

There's lots to see and do including many nature walks through native forest - some of which take you to picturesque waterfalls.

The Millennium Walk takes just 10 minutes, starting from the visitor centre. It's suitable for prams and takes you over a little stone bridge to see Avalanche Creek waterfall.

Pack a picnic and the mountain bikes, or drop a fishing line in the river or surrounding lakes, sit back and relax....

Did you know...?

Arthur's Pass National Park was established in 1929, the third national park in New Zealand and the first one in the South Island.
Arthur's Pass straddles the Main Divide or Southern Alps/Kā Tiritiri o te Moana, also known as the 'back bone' of the South Island.
It is a landscape of high mountains with scree (loose rock) slopes, steep gorges and wide braided river beds.
It is a park of contrasts, with dry beech/tawhai forest on the east and lush rainforest on the west.
The highway and railway running through the middle of Arthur's Pass are of historic significance.
Home to the Great spotted kiwi - often heard but rarely seen!

Reference:

Learning outcomes from excursions

Inspires and extends learning beyond the classroom with children making discoveries through their own experiences.
A hands-on experience which reinforces and expands classroom topics - especially good as children respond so well to tactile/ kinesthetic learning.
A fantastic chance to explore subjects more thoroughly with follow-up activities back at base camp - kindy.

Increase interest and understanding of the natural environment and its plants and wildlife.

Promote a passion for nature and maybe spark a lifelong love for learning in the outdoors.

A great bonding experience for the group, where non-English speaking children can fully engage, creating a shared reference for all for a long time to come.
KIDSFIRST KINDERGARTENS ARE A NOT FOR PROFIT ASSOCIATION THAT HAS DEVELOPED AND MAINTAINED KINDERGARTENS IN CHRISTCHURCH, CANTERBURY AND ON THE WEST COAST FOR OVER 100 YEARS - AS THE PLACE LOCAL KIDS COME TO LEARN, PLAY AND HAVE FUN.