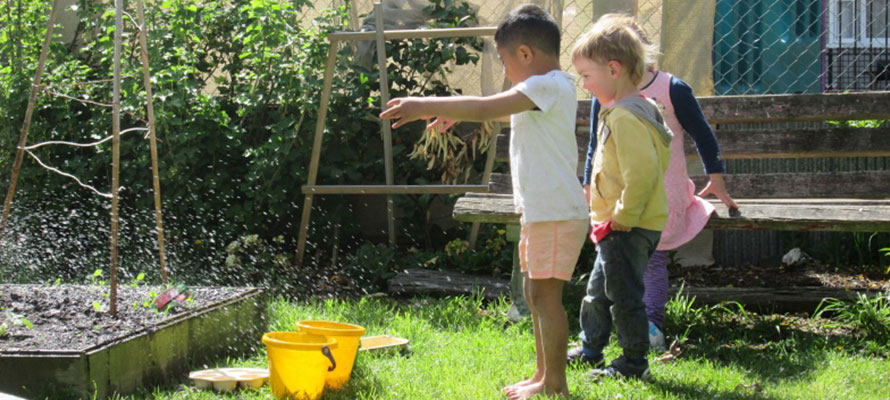 | | | |
| --- | --- | --- |
| | | At Kidsfirst MacFarlane Park, watering the vegetable garden became a lesson in physics as the children tried to figure out just how much water would land where... |
OUR TOP STORIES:

Learning through play is the Kidsfirst way. Our children are encouraged to immerse themselves in the task at hand by experimentation, asking questions, listening to what others have to say, setting up theories and coming up with ideas to explain just what they think might be happening.

Like at Kidsfirst MacFarlane Park recently where, what started out as water play, turned into a science lesson around some simple laws of physics.

Head Teacher Pat Williams had got out the hose and sprinkler to water the vegetable garden, with three curious children in tow. They were very keen to check out the water landing from the sprinkler. One of the children found a bucket to catch the water in and the others quickly followed suit, setting up buckets beside the garden.

The three big yellow buckets, a small green bucket, a flat pie dish and a muffin tray, all made for an interesting water catching collection.

Pat asked, "which bucket do you think will fill up first?"

The children donned their thinking caps.

"The big yellow one," was their answer as they settled in to watch carefully, thinking their yellow bucket would win the race.

As the containers filled up the children began to realise that the flat pie dish was nearly full, but the yellow bucket was still quite empty. They stepped closer to watch the water and investigate what was happening. They could clearly see that there were more drops of water going into the flat dish than into the bucket.

Pat asked, "what do you think that tells us about the containers?"

The children were quick to answer. "The flat dish is getting more water, because it is wider."

Well done! It had more surface area to capture the drops so it was filling up faster.

"But that was not all," says Pat. "The children worked out that the pie dish was shallower and also that where it was placed by the sprinkler affected how much water it received. Closer was not necessarily better!"

The inquisitive children finished watching the dishes fill up, until it was time to move the hose.

What a wonderful example of learning going hand in hand with fun, summertime water play. Kidsfirst are so proud of all the fantastic outdoor kindergarten environments across the network where children are encouraged to put forward their ideas and learn about how things work, to help make sense of their world.

QUICK READ

Helping to water Kidfirst Macfarlane Park's vegetable garden soon turned into an interesting science experiment, as the children tried to figure out which bucket would fill up first.

Learning Outcomes

Using skills that will help guide the children at school, especially in Mathematics and Science.

Solving problems and learning about different shapes and sizes, distance and volume.

Looking for patterns, guessing, using trial and error, making comparisons, reflecting, observing and drawing conclusions.
KIDSFIRST KINDERGARTENS ARE A NOT FOR PROFIT ASSOCIATION THAT HAS DEVELOPED AND MAINTAINED KINDERGARTENS IN CHRISTCHURCH, CANTERBURY AND ON THE WEST COAST FOR OVER 100 YEARS - AS THE PLACE LOCAL KIDS COME TO LEARN, PLAY AND HAVE FUN.