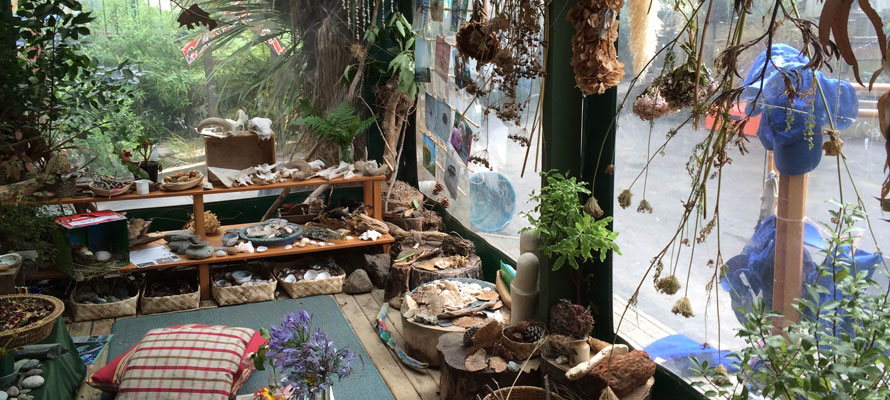 | | | |
| --- | --- | --- |
| | | "Part of being a clean, green kindergarten is an awareness of the materials that you use when you get together to play and learn..." |
SOME OF OUR STORIES

Kidsfirst Lyttelton is an Enviroschool, one of four in the Kidsfirst network. This means that they are committed to teaching children about their connection to nature.

Through these connections with the environment, they can consider the world we are a part of, and look to how we make decisions to improve the physical and social environment of our places, our community and our world.

Liz Davey, Head Teacher at Kidsfirst Lyttelton, makes sure that this ethos extends into every area of the children's experience at the kindergarten.

Their play materials aren't plastic, instead you'll find driftwood, shells, stones, pebbles, herbs, leaves, sticks, moss and grass on the tabletops, on the mat and being used outside.

These materials are often great at encouraging the extension of natural play with the children.

Liz explains that "leaves, grass and moss are often used for dinosaur nests", and pebbles and shells are great for learning about pattern matching. Sticks and stones are great in the block play area as another resource to make fences and roads with.

An innovative way to recycle is to think about where you would buy containers, and then see what you've already got at the kindergarten.

Liz explains that "there's no point in buying plastic paint pots you end up throwing away", when you can recycle things like paua shells, which Kidsfirst Lyttelton teacher Kathy Wall did. Yoghurt pottles from lunchboxes and old jam jars can be just as effective.

It's all part of learning about our place in the world and how we can be more responsible carers for the environment.

Being surrounded by natural materials and incorporating them into their play provides the tamariki at Kidsfirst Lyttelton, not only with a great fascination for the world they live in, but also with a great respect for it.

Kidsfirst Lyttelton, we're so proud of you!

QUICK READ

As an Enviroschool, Kidsfirst Lyttelton use natural materials in their play to foster a tangible connection to the environment.

They are also keen recyclers.
KIDSFIRST KINDERGARTENS ARE A NOT FOR PROFIT ASSOCIATION THAT HAS DEVELOPED AND MAINTAINED KINDERGARTENS IN CHRISTCHURCH, CANTERBURY AND ON THE WEST COAST FOR OVER 100 YEARS - AS THE PLACE LOCAL KIDS COME TO LEARN, PLAY AND HAVE FUN.