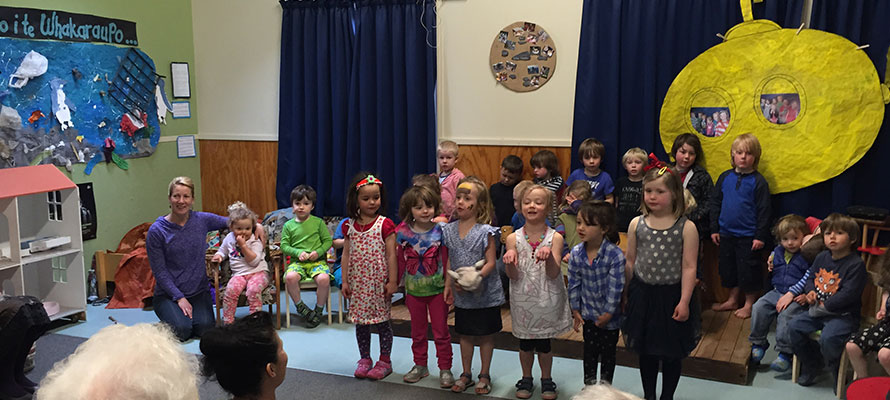 | | | |
| --- | --- | --- |
| | | Kidsfirst Lyttelton welcomed their friends from Community House with a small concert that featured a great mix of songs. |
OUR TOP STORIES:

Kidsfirst kindergartens are all connected to their local communities in so many ways. Whether it's the teachers, families and children reaching out or visitors coming in you'll find that we love playing our unique part in the neighbourhood.

At Kidsfirst Lyttelton, where after the last successful visit from their friends at Community House during Matariki, they decided to hold another concert, this time including some more songs that the visitors would be familiar with.

The visitors arrived and were seated in the mat area where the children serenaded them. The hits included old favourites such as Daisy Daisy, You are my Sunshine, Yellow Submarine and Dirty Socks, a special song taught to the children during Wednesday choir with Laura and Chris.

After the concert visitors stayed for a hot drink and a piece of slice, provided by local mum Kiri Carey. This provided the opportunity for some of the tamariki to chat with their new friends, and in some cases draw them pictures and make them gifts.

This was a meaningful and valuable experience for the teachers, the tamariki and for our friends from Community House. We are very appreciative of the time they have taken to visit us and we hope they will return next time to hear our Christmas songs!

Also at Kidsfirst Lyttelton, for co-winning the 'Best Selfie' award at Kidsfirst's Quiz Night, the teaching team was rewarded with their very own selfie stick. They decided to recreate the shot that won them the prize, but this time with the tamariki.

Above (literally) is a printed out version of the original photo of the teaching team at Quiz Night, stuck to the ceiling above the desk for those stressful moments when a little laugh is required.

QUICK READ

The Māori concept of whanaungatanga encompasses the importance of building relationships through shared experiences. This is exactly what occurred when our friends from Community House came to Kidsfirst Lyttelton to hear them sing some waiata...
KIDSFIRST KINDERGARTENS ARE A NOT FOR PROFIT ASSOCIATION THAT HAS DEVELOPED AND MAINTAINED KINDERGARTENS IN CHRISTCHURCH, CANTERBURY AND ON THE WEST COAST FOR OVER 100 YEARS - AS THE PLACE LOCAL KIDS COME TO LEARN, PLAY AND HAVE FUN.