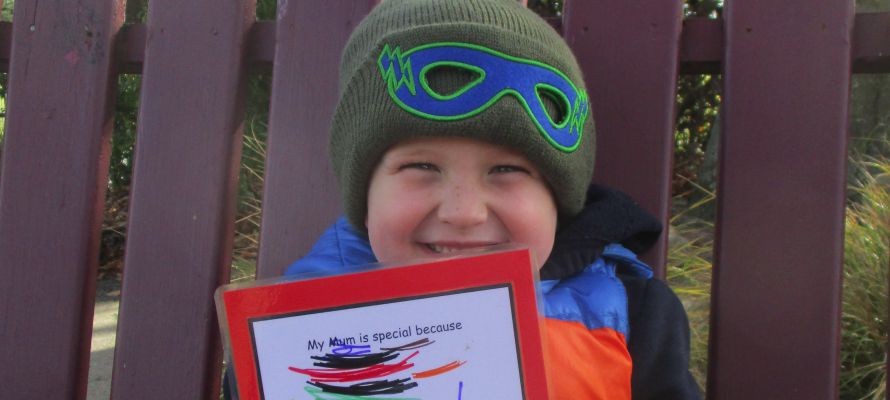 Thanks mum, we love you!
Kidsfirst is all about celebrating whānau. Here's a snapshot of what some of our tamariki did this year to show their love and appreciation on Mother's Day.

FIND OUT WHY WE'RE JUST BETTER BECAUSE...

Where would we be without the loving guidance of our mothers and caregivers?

With the lead up to Mother's Day at Kidsfirst Burnham children created beautiful handmade cards and talked about what makes their mum so special. Here are just some of heart warming comments;

'My Mum is special because we play together and have fun.'

'My Mum is special because she lets me help her with the washing. Mum is actually so helpful and so special to our family.'

'My Mum is special because she takes me to Coffee Culture for hot chocolates.'

'My Mum is special because she reads me stories.'

To celebrate both NZ Sign Language Week and Mother's Day Kidsfirst Avonhead tamariki learnt to sign "I love Mum."

Click through to our Kidsfirst Facebook page to find out more. And check out their beautiful hand-print flower creations and poetry made just for mum.

Thank you to all of our kaiako around the network who helped tamariki to celebrate mum in their own special way this year.

.

Kidsfirst Kindergartens
Head Office, 43 Birmingham Drive, Middleton, Christchurch 8024
+64 3 338 1303email: questions@kidsfirst.org.nz
Postal Details: Kidsfirst Kindergartens, PO Box 8089, Christchurch 8440
KIDSFIRST KINDERGARTENS ARE A NOT FOR PROFIT ASSOCIATION WITH OVER 70 KINDERGARTENS AND EARLY LEARNING CENTRES COVERING CHRISTCHURCH, CANTERBURY, CENTRAL OTAGO, BANKS PENINSULA AND THE WEST COAST - AND HAS DONE SO FOR OVER 100 YEARS
- AS THE PLACE LOCAL KIDS COME TO LEARN, PLAY AND HAVE FUN.