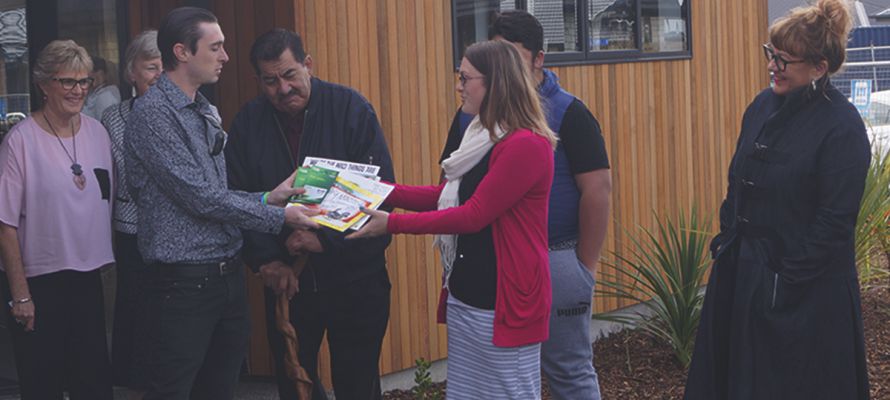 | | | |
| --- | --- | --- |
| | Kidsfirst is a not-for-profit organization dating back over 100 years and backed by the endless support of our local communities... | |
SOME OF OUR TOP STORIES

We are both astounded and humbled by how much people are willing to give to kindergarten, allowing us to provide extra new resources and experiences for our tamariki (children).

We'd like to give special mention and express our sincere gratitude for the incredibly generous support we get from local and national businesses - happy to donate materials and their expertise to our latest kindergarten project.

Thank you. Without you, our kindergartens (and our fundraisers), just wouldn't be the same. Here's how a few businesses have really helped...

Local Rolleston Countdown supermarket manager, Joe Keetley (above) welcomed our brand new centre, Kidsfirst West Rolleston, to the neighbourhood with a generous gift of beautiful children's books and food vouchers.

Kidsfirst MacFarlane Park were delighted to receive an awesome new addition to their outdoor area - a cheerful apple green, metallic grey and soft pink play house - with thanks to the team at Shirley Bunnings.

"It was a fabulous gift, that the children were very excited about," says Kidsfirst Kindergartens Chief Executive, Sherryll Wilson. "Even better Bunnings said they would come back to help tidy the garden around the playhouse and donate some plants. That's wonderful community spirit that means so much to us as a not-for-profit association."

Bunnings Riccarton (Tower Junction), lent Kidsfirst Isleworth a hand to build a raised garden box at the kindergarten for strawberry plants for the summer.

"We were so grateful for Bunnings expertise and support with this project," says Teacher, Charlotte Besley. "And totally overwhelmed with their generosity - not only did they build this for us but they supplied all of the materials too."

"The tamariki were abuzz seeing real planning, hammering and construction in action," says Charlotte, "they loved being part of the action and 'mucked in' to help spread the soil and pop in the strawberry plants."

What a shining example of community spirit and so fantastic to have children involved in the process, combining the Māori principles of Whanaungatanga (wider community) and Tuakana/teina (younger learning from older).

When the Manager at Mitre 10 discovered a group of Kidsfirst Templeton tamariki and teachers in his Hornby Store (there to buy plants for their kindergarten garden) he very kindly donated everything they needed!

"He was very impressed to hear that the older children had taken kananga (responsibility) for purchasing plants on behalf of the younger children," says Teacher, Christine Gibbens.

"He also took us to the seed section to choose a packet of sunflower seeds, showed us where to find a new drill bit and even organized for some compost and chicken wire to be delivered direct to kindy (when he realized we were bussing back)," says Christine.

It's not the first time Mitre 10 has helped out our kindergartens and we truly appreciate this kind of community support. What a bright, bountiful garden Kidsfirst Templeton must have with new tomato, lettuce, corn, cucumber, silver beet, spinach, sugar snap peas plants and a grape vine!

Last year, when Kidsfirst Karoro wanted to do a playground revamp, parents, whānau, neighbours, the local BNZ - in fact the whole community - all got involved.

The BNZ 'Closed for Good' intiative is their annual day of community volunteering and they chose to undertake the kindergarten playground upgrade as one of their working bee projects.

The local Mitre 10 provided a mobile under cover BBQ trailer for an all weather sausage sizzle to keep the workers feed and happy throughout the day.

Another friendly local who works at West Road (specialists in roading construction) quoted gravel for the kindergarten at a good price and lent some of the tools needed to complete the project.

"It was a whole kindergarten community effort, with so many different materials donated, baked goods brought in, help from families and more," says Head Teacher, Tim Eden-Calcott.

"We couldn't be more pleased with the results - everyone loves our new playground."

Our Central Otago kindergarten's are constantly surprised and amazed by the generous support of their local communities too.

Kidsfirst Maniototo were thrilled to be the lucky recipients of a brand new, shiny, red ride-on tractor, thanks to local farm suppliers Gavin Denston (of JJ Limited) and tractor company Massey Ferguson.

Tamariki were delighted! The tractor is in hot demand but children are happy to patiently wait their turn – with regular stops to check under the bonnet for bird's nests.

And every year the community rallies to back Kidsfirst Frankton kindergarten's annual big fundraiser donating wonderful prizes for their 'Auction of promises.'

"Everybody gets behind us," says Teacher Sally Ibbotson. "We're always amazed by the incredible generosity of local businesses."

We are so very fortunate to have such fantastic community support. Thank you so much!
Information including that about fees, services and promotional activities were correct at the date of publication of news stories but may since have changed. Please check with us to ensure information is current.