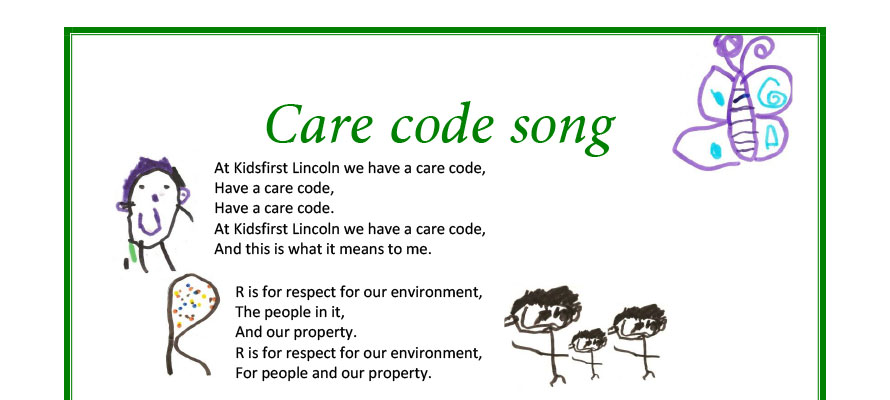 | | | |
| --- | --- | --- |
| | | The Care Code Waiata at Enviroschool Kidsfirst Lincoln, continues to teach children the importance of sustainability and caring for our environment. |
OUR TOP STORIES:

Part of Kidsfirst's commitment to the environment is being involved in the Enviroschools network, a unique sustainability programme that many early childhood education centres and schools in New Zealand are now on.

Part of the programme for many years, Kidsfirst has been helping to show the ways sustainability can be put into practice in early childhood.

Enviroschool Kidsfirst Lincoln have their very own waiata, the 'Care Code Song,' to teach the importance of sustainability. It is a special song that is unique to Kidsfirst Lincoln, created by children, whānau and teachers to reflect their vision for the kindergarten as an Enviroschool.

As is so often the way at Kidsfirst, what begins as a good idea on paper will really take off and continue to evolve once the children are involved. The teaching team at Kidfirst Lincoln had wondered how to help the children to easily remember the Care Code - what it was and what it was about. Re-creating it in a song brought the Care Code alive for the children, who continue to enjoy to sing it to this day.

"While the song was written in 2010 it continues to be a part of life at Kidsfirst Lincoln, children soon pick up the catchy tune and the repetitive nature helps children to be able to join in," says Relieving Head Teacher and composer of the song, Helen Smith.

What better way to celebrate the importance of care and sustainability than through a song.

QUICK READ

The first two verses from Enviroschool Kidsfirst Lincolns Code Care waiata...

At Kidsfirst Lincoln we have a care code,

Have a care code,
Have a care code.
At Kidsfirst Lincoln we have a care code,

And this is what it means to me.

R is for respect for our environment,

The people in it,

And our property.

R is for respect for our environment,

For people and our property.
KIDSFIRST KINDERGARTENS ARE A NOT FOR PROFIT ASSOCIATION THAT HAS DEVELOPED AND MAINTAINED KINDERGARTENS IN CHRISTCHURCH, CANTERBURY AND ON THE WEST COAST FOR OVER 100 YEARS - AS THE PLACE LOCAL KIDS COME TO LEARN, PLAY AND HAVE FUN.