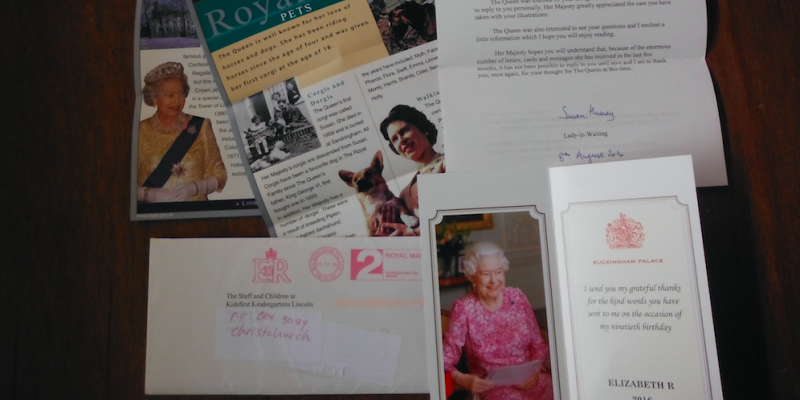 | | | |
| --- | --- | --- |
| | Kidsfirst Lincoln's new year started with the arrival of a very special card and letter from Her Majesty Queen Elizabeth, in response to a birthday card tamariki sent to her last May, for her ninetieth... | |
SOME OF OUR TOP STORIES

Inspired by further research into the British Monarch, Kidsfirst Lincoln tamariki decided to send some right royal birthday cheer in the form of a king-sized, concertina style letter - packed with carefully illustrated artworks and a curious question or two;

"How heavy is your crown?" "Do you have a King?" "Where do your horses sleep," and "We know you like Corgi dogs, do you have a cat?"

On return from the summer break Teacher, Helen Smith explains how delighted they were to find a very official, regal looking envelope in the post, "how exciting - it's not often that you get mail from the Queen!"

The package included a card, with a photo of the Queen dressed in pink and pearls, stamped with the royal Coat of Arms (golden lion, white unicorn, crest and crown) and the words Buckingham Palace.

It read: "I send you my grateful thanks for the kind words you have sent to me on the occasion of my ninetieth birthday." - Elizabeth R 2016.

A letter written on behalf of the Queen by her Lady in Waiting, thanked the children for their, "splendid piece of art work" and "kind birthday message." As well, some printed sheets with information about 'The Crown Jewels' and 'Royal Pets' to help answer the children's royal inquisition.

"The wonderful thing was the number of children who remembered writing the letter and making a card for Her Majesty so many months ago, and their excitement at getting a reply," says Helen.

We wonder…as is tradition across the British Empire - would the Queen receive a letter from herself on her one hundredth birthday?
Information including that about fees, services and promotional activities were correct at the date of publication of news stories but may since have changed. Please check with us to ensure information is current.