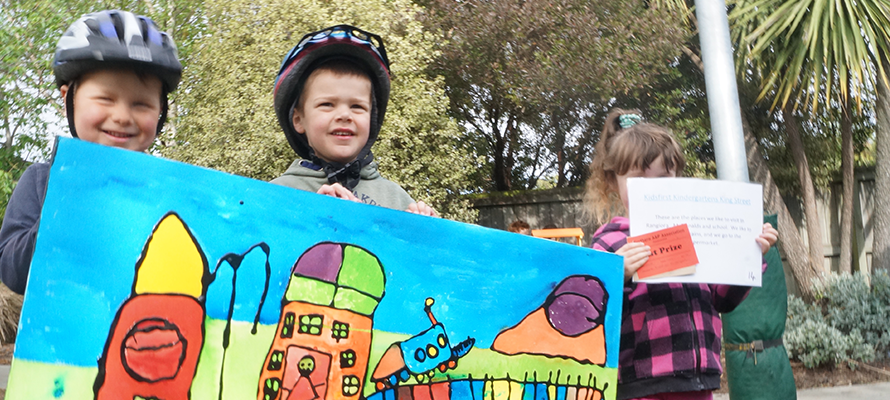 | | | |
| --- | --- | --- |
| | | Kidsfirst King Street scoops an art prize for their mural at the local Rangiora A&P Show. |
OUR TOP STORIES:

Kidsfirst loves to be a part of their local communities.

Just prior to the Canterbury A&P Show, over Labour weekend, the Northern A&P Association held their annual show in Rangiora and this year included a new art category – a Pre-school Mural. Kidsfirst King Street took the opportunity to be involved.


"We knew that we had some brilliant artists at our kindergarten and were certainly up for the challenge," says Head Teacher Jocelyn Cameron.


Teachers asked the children to think about the places around Rangiora that were important to them. There were three canvases, and the children were quick to decide that the homes they live in should go on the first canvas – very important.


The second canvas was filled with other local places that are special for the children - including the school, the supermarket, McDonalds and the railway line, complete with train.





The third canvas portrayed the nearby mountains, the tallest of which is Moukatere/Mt Grey and which the children often interpret as a giant cup cake.


Some of the children said they can see the mountains from their homes and others talked about walking in the mountains with their families.


Together the teachers and children worked hard to create their canvas masterpieces and were thoroughly delighted to win first prize!

"We were very excited that the judges liked our art…and rewarded our hard work with a first place and the princely sum of $10.00," says Jocelyn. Well done Kidsfirst King Street.

It's great to see children enjoying all the wonderful creative opportunities on offer here at Kidsfirst.

QUICK READ

The Canterbury and regional A&P Shows are always a great day out for children. Action packed with animals and excitement, there's so much to see and do...
KIDSFIRST KINDERGARTENS ARE A NOT FOR PROFIT ASSOCIATION THAT HAS DEVELOPED AND MAINTAINED KINDERGARTENS IN CHRISTCHURCH, CANTERBURY AND ON THE WEST COAST FOR OVER 100 YEARS - AS THE PLACE LOCAL KIDS COME TO LEARN, PLAY AND HAVE FUN.