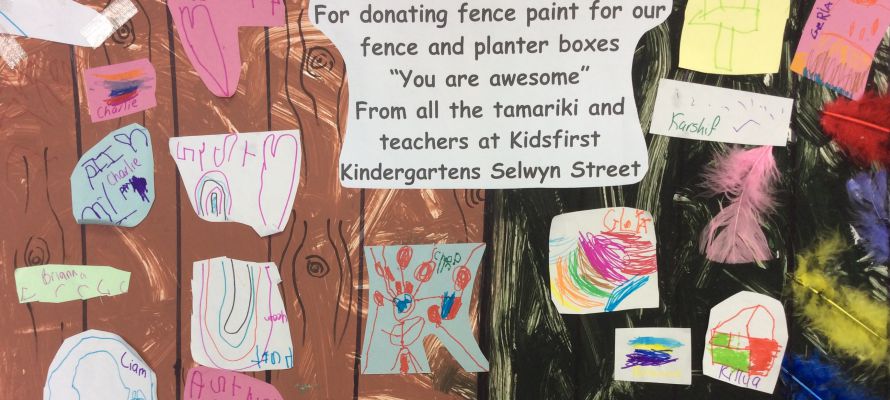 Colour us lucky.
We're both astounded and humbled by how much people give, willingly donating their time, materials and expertise to our projects and allowing us to provide new resources and experiences for tamariki at kindergarten.

FIND OUT WHY WE'RE JUST BETTER BECAUSE...

Kidsfirst is a not-for-profit organization dating back over 100 years and backed by the endless support of our local communities.

When Kidsfirst Selwyn Street needed some help to finish decorating their outside play area, the good people at local paint and coating specialists, Mainland Resene Colorshop were happy to help.

The kindergarten recently underwent a complete renovation as part of the Kidsfirst Strengthening Buildings project. Mainland Resene Colorshop fence stain 'country green' finished off the fence nicely while the 'country brown' completed the planters. And ideal to use being water based and child-friendly.

The planter boxes and fence at Kidsfirst Selwyn Street, before and after.

"This has been a great opportunity for children to build relationships and share new connections with our local community," says Kidsfirst Selwyn Street, Teacher Lisa Foraker.

"We say a big thank you for their support."

.

Kidsfirst Kindergartens
Head Office, 43 Birmingham Drive, Middleton, Christchurch 8024
+64 3 338 1303 email: questions@kidsfirst.org.nz
Postal Details: Kidsfirst Kindergartens, PO Box 8089, Christchurch 8440
KIDSFIRST KINDERGARTENS ARE A NOT FOR PROFIT ASSOCIATION WITH OVER 70 KINDERGARTENS AND EARLY LEARNING CENTRES COVERING CHRISTCHURCH, CANTERBURY, CENTRAL OTAGO, BANKS PENINSULA AND THE WEST COAST - AND HAS DONE SO FOR OVER 100 YEARS
- AS THE PLACE LOCAL KIDS COME TO LEARN, PLAY AND HAVE FUN.