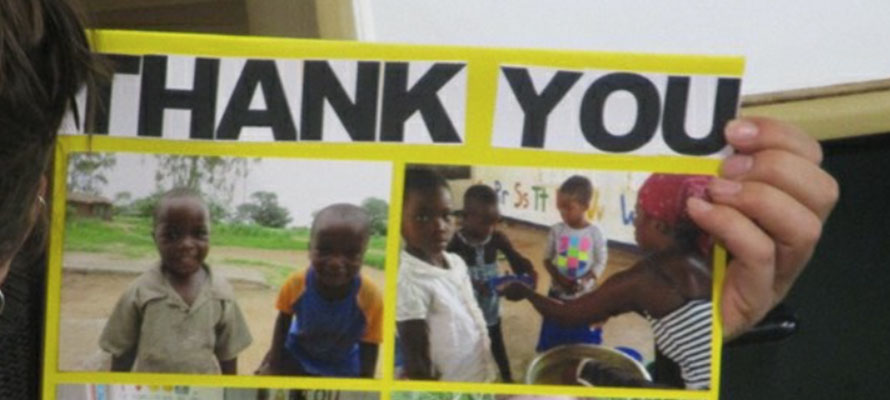 Community awareness goes global.
We're always on the look out for opportunities to expand our community connections at both a local and global level. And what better way to broaden our childrens' horizons than by helping out new friends in other parts of the world.

FIND OUT WHY WE'RE JUST BETTER BECAUSE...

Porridge and paint are what tamariki at Kidsfirst Greymouth are fundraising for, to help the children of Ngara Nursery in Malawi, Africa.

"Their building was in desperate need of a renovation and children lacked a nutritious breakfast before learning," says Devon Kilkelly, a former Kidsfirst Greymouth kindy kid, now in her early twenties and studying nursing at Otago.

Devon recently won a TVNZ Good Sort Award for her continued volunteer work to help the young children in Ngara village. A six-month stint there as an 18 year-old opened her eyes and inspired her to make a difference. Devon's appeal was for porridge and paint.

"I was able to make an impact within the Ngara community in many different ways but the most significant to me was through the nursery school," says Devon.

"It was run down and unsafe with a dirt floor and paint peeling off the walls. Learning resources and equipment were limited and children were trying to learn on empty tummies, with three meals a day unaffordable for local families."

Devon Kilkelly shows tamariki a thank you card with photos of the children in Malawi, Africa.

Head Teacher, Tracy Jennings collects handmade music-making shakers to send the children.

A special moment for Tracy Jennings, Head Teacher at Kidsfirst Greymouth was contacting Devon to let her know their whole kindergarten community were backing her good cause.

"I taught Devon when she was at our kindergarten and remember her as a can-do kid; brave, outgoing, vibrant and a problem solver. I feel so proud that she's gone on to do such amazing volunteer work for young people."

On a special visit to the kindergarten Devon was overwhelmed by the generosity of tamariki and whānau with a $100 donation (from selling glow sticks at their disco) and a set of handmade music-making shakers to pop in her suitcase on her next trip over for the children of Ngara Nursery. As well as donated learning resources such as books, puzzles and toys.

"Helping Devon to fundraise on behalf of these children in Malawi has turned into a fantastic learning opportunity for tamariki," says Tracy.

"Not only instilling the great value of thinking outside of yourself to help others, but also extending their knowledge and links from the community they live in, to the wider global community."

"Amazing, kind, thoughtful and giving," is how Devon describes the tamariki from Kidsfirst Greymouth, who will continue to help fundraise and are excited about building a lovely relationship with the children of the Ngara Nursery as pen-pals.

Read more here about how you can help Devon too:

We are so very fortunate to have so many inspiring people within our communities who amaze us with their generosity, focus, creativity, energy and commitment.

.

Kidsfirst Kindergartens
Head Office, 43 Birmingham Drive, Middleton, Christchurch 8024
+64 3 338 1303email: questions@kidsfirst.org.nz
Postal Details: Kidsfirst Kindergartens, PO Box 8089, Christchurch 8440
KIDSFIRST KINDERGARTENS ARE A NOT FOR PROFIT ASSOCIATION WITH OVER 70 KINDERGARTENS AND EARLY LEARNING CENTRES COVERING CHRISTCHURCH, CANTERBURY, CENTRAL OTAGO, BANKS PENINSULA AND THE WEST COAST - AND HAS DONE SO FOR OVER 100 YEARS
- AS THE PLACE LOCAL KIDS COME TO LEARN, PLAY AND HAVE FUN.