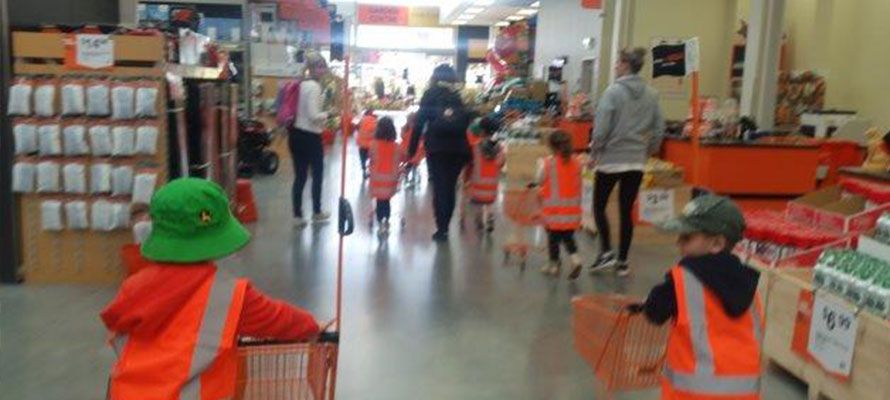 | | | |
| --- | --- | --- |
| | One of the ways Kidsfirst Kindergartens teach children about environmental sustainability is to plant and care for one of the many vegetable gardens at our centres... | |
SOME OF OUR TOP STORIES

Children love time outside tending to a garden with trusty trowel and watering can. Under their curious, watchful eyes our gardens flourish. The fun bit comes at harvest time when children can reap, and eat, the rewards of all their hard work.

There was an abundance of inspiration when Kidsfirst Templeton tamariki were planning their summer fruit and vegie kindy garden. They excitedly said, "Let's grow broccoli, peas and lettuce, tomatoes, sunflower seeds and apples, or carrots, lemons and corn."

The eldest children took kananga (responsibility) for the job of plant buying on behalf of the younger ones with a yellow bus ride to Mitre 10 Mega in Hornby.

"It was only a few weeks ago when we rode a yellow bus to the Botanical Gardens and Mitre 10 was certainly an attraction we passed on the way, with many children pointing it out," says Teacher, Christine Gibbens.

On arrival tamariki were excited to see there were enough little shopping trolleys for all and using their early literacy skills they recognized the beginning of the words 'Garden Centre' so off they headed in that direction.

"One by one each child spotted the vegetable or fruit plant that they were responsible for finding," says Chris. "Each child carefully selected a marigold plant too, as we had learnt they help to naturally keep away unwanted garden bugs, like snails and slugs."

When the Mitre 10 Store Vice Manager, Liam, discovered the keen Kidsfirst Templeton kindergarten gardeners he very kindly donated everything we needed (manaakitanga). He was impressed to hear that the older children had taken kananga (responsibility) for purchasing the plants on behalf of the younger children (tuakana).

"Liam then took us to the seed section to choose a packet of sunflower seeds, showed us where to find a new drill bit and even organized for some compost and chicken wire to be delivered to kindy as he realized we were bussing back," says Christine.

It's not the first time Mitre 10 has helped out our kindergartens. We'd like say a huge thank you to them and to all of the many people in our communities who consistently support us.

Teachers will continue to work alongside tamariki to plant the veggies and fruit purchased and care for them with water and weeding.

"As the fruit and vegetables ripen children will be encouraged to harvest and prepare produce for eating. We will learn more about caring for the wider world and how we can make a difference for future generations," says Chris.

What a bright, bountiful garden Kidsfirst Templeton will have with their new tomatoes, lettuce, corn, cucumber, silver beet, spinach, sugar snap peas and a grape vine!
Information including that about fees, services and promotional activities were correct at the date of publication of news stories but may since have changed. Please check with us to ensure information is current.