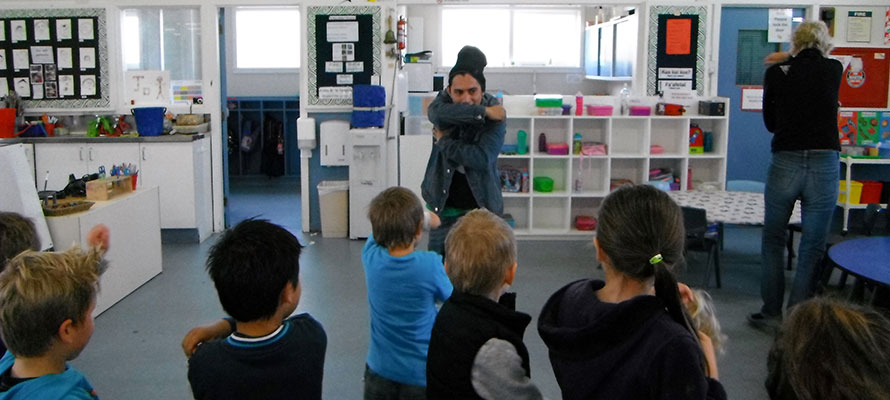 | | | |
| --- | --- | --- |
| | | Sharing the love of dance and singing at Kidsfirst Woolley Street... |
OUR TOP STORIES:

Encouraged by Head Teacher Sophie Thompson, children have had visits from the Christchurch professional Hip Hop dance crew 'Common Ground', and Miss Lucy and her pupils from Southern Ballet School.

Steve had teachers and children up and dancing moves like the Dracula, the Lean Stance, Captain America and the Cowboy Stance.

The next week, Miss Lucy, together with her students Claudia and Hayley, came to show some ballet moves from The Nutcracker. This time, instead of break dance poses, everyone tried moves such as the frog legs, bowing and curtsying.

"Showing children that variety is a real focus for us at Kidsfirst Woolley Street. We want everyone here to experience as many new ideas and activities as possible – you never know which one will spark their interest!" says Sophie.

QUICK READ

From breakdancing to ballet the children at Kidsfirst Woolley Street kindergarten show that they've got what it takes to try out all the moves...
KIDSFIRST KINDERGARTENS ARE A NOT FOR PROFIT ASSOCIATION THAT HAS DEVELOPED AND MAINTAINED KINDERGARTENS IN CHRISTCHURCH, CANTERBURY AND ON THE WEST COAST FOR OVER 100 YEARS - AS THE PLACE LOCAL KIDS COME TO LEARN, PLAY AND HAVE FUN.