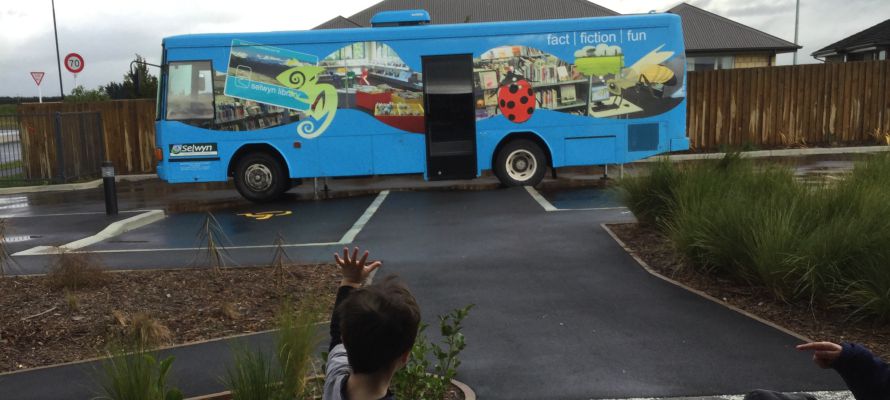 Books on the bus
What better way to help build lifelong learners than with ready access to lots of different books? Kidsfirst West Rolleston kindergarten tamariki love it when a busload of library books arrives on their doorstep.

FIND OUT WHY WE'RE JUST BETTER BECAUSE...

Research shows that children who learn to read and enjoy books from a young age are at a huge advantage when it comes to reading and communication in adulthood.

Once a month at Kidsfirst West Rolleston tamariki and teachers can look forward to their visits from the Selwyn Community Library Bus with the chance to jump on board and choose from a fantastic selection of books.

"It's always an exciting time waiting for the bus to arrive," says Teacher, Kirsten Coppen.

Once piled on the bus and having listened carefully to the librarian's talk about safety and where to find which books, each child can pick a book, a place to sit and then simply - enjoy.

"I also found a great story to read to all of the children as a group before it was time for them to head to the front of the bus with their selection of books to borrow," says Kirsten.

"The children were so patient as they waited for their books to be scanned and placed in the basket to bring back to kindy."

"It's pretty exciting having our own library bus come to visit, we had fun and are already looking forward to the next visit."

.

Kidsfirst Kindergartens
Head Office, 43 Birmingham Drive, Middleton, Christchurch 8024
+64 3 338 1303email: questions@kidsfirst.org.nz
Postal Details: Kidsfirst Kindergartens, PO Box 8089, Christchurch 8440
KIDSFIRST KINDERGARTENS ARE A NOT FOR PROFIT ASSOCIATION WITH OVER 70 KINDERGARTENS AND EARLY LEARNING CENTRES COVERING CHRISTCHURCH, CANTERBURY, CENTRAL OTAGO, BANKS PENINSULA AND THE WEST COAST - AND HAS DONE SO FOR OVER 100 YEARS
- AS THE PLACE LOCAL KIDS COME TO LEARN, PLAY AND HAVE FUN.