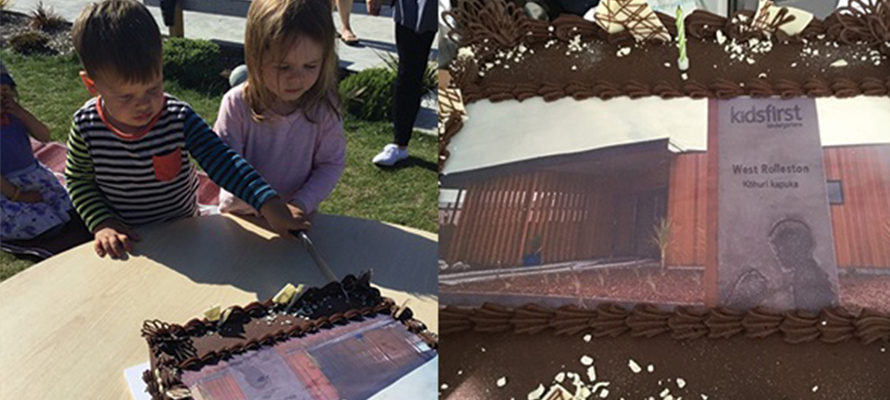 West Rolleston birthday celebrations
Happy first birthday to Kidsfirst West Rolleston who have had a big first year, full of amazing kindergarten adventures.

FIND OUT WHY WE'RE JUST BETTER BECAUSE...

In this time a wheel-a-thon, disco, dinner at kindy, teddy bears picnic and many more wonderful events have been celebrated.

This has encouraged everyone's engagement and helped to build new relationships and a real sense of belonging at Kidsfirst West Rolleston.

"October marked our first birthday and we were very grateful for all of the support we had in making it a great celebration," says head teacher, Victoria Rodger.

The kindergarten had a fantastic community turnout, delicious kai to share and a very special birthday cake! Honoured guests included Sherryll Wilson, Jenny Pitama and Nicki Chapman from Birmingham Drive.

Victoria says that over the last year, they've transitioned in 75 children who have been the base of the wonderful Kidsfirst West Rolleston kindergarten community.

"We've really enjoyed making new connections and getting to know each family here and would like to thank everyone for their contributions."

"We have been proud to see our own unique kindergarten culture develop and look forward to the following year ahead."

.

Kidsfirst Kindergartens
Head Office, 43 Birmingham Drive, Middleton, Christchurch 8024
+64 3 338 1303email: questions@kidsfirst.org.nz
Postal Details: Kidsfirst Kindergartens, PO Box 8089, Christchurch 8440
KIDSFIRST KINDERGARTENS ARE A NOT FOR PROFIT ASSOCIATION WITH OVER 70 KINDERGARTENS AND EARLY LEARNING CENTRES COVERING CHRISTCHURCH, CANTERBURY, CENTRAL OTAGO, BANKS PENINSULA AND THE WEST COAST - AND HAS DONE SO FOR OVER 100 YEARS
- AS THE PLACE LOCAL KIDS COME TO LEARN, PLAY AND HAVE FUN.