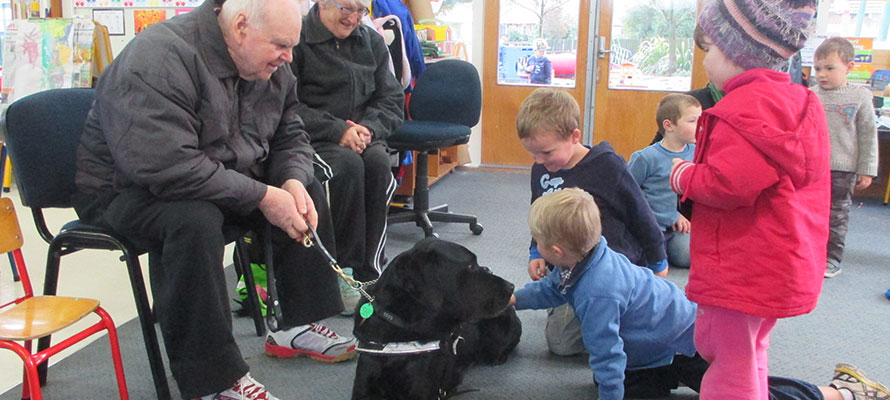 | | | |
| --- | --- | --- |
| | | Kidsfirst teachers often look outside the kindergarten environment for inspiration, and this time, teacher Gill O'Connell from Kidsfirst Wales Street didn't have to look far. |
OUR TOP STORIES:

Gill and her teaching team were inspired by the opportunity to support the community fundraiser 'Red Puppy Bikkie Day', for the Blind Foundation's Guide Dogs.

Children at the kindergarten helped to bake and decorate cookies in the shape of dogs, and these were sold for a gold coin donation. The exercise was not only outward-focused, as counting the coins and using the calculator to add bigger figures are foundational numeracy skills.

The learning was extended when the children were treated to three different visits from various guide dogs and their owners or trainers in their community.

"The whole unit was such a success. We were really inspired by the dogs and how much they can help those with impaired vision. We're also grateful to our whānau who got behind the cause, helping us to raise $131.10 for the Blind Foundation," says teacher, June King.

QUICK READ

The children at Kidsfirst Wales Street got behind the fundraiser for the Blind Foundation's Guide Dogs.

They raised just over $130 for this excellent cause, and had fun in the process, learning about counting and even having a visit from actual guide dogs.
KIDSFIRST KINDERGARTENS ARE A NOT FOR PROFIT ASSOCIATION THAT HAS DEVELOPED AND MAINTAINED KINDERGARTENS IN CHRISTCHURCH, CANTERBURY AND ON THE WEST COAST FOR OVER 100 YEARS - AS THE PLACE LOCAL KIDS COME TO LEARN, PLAY AND HAVE FUN.