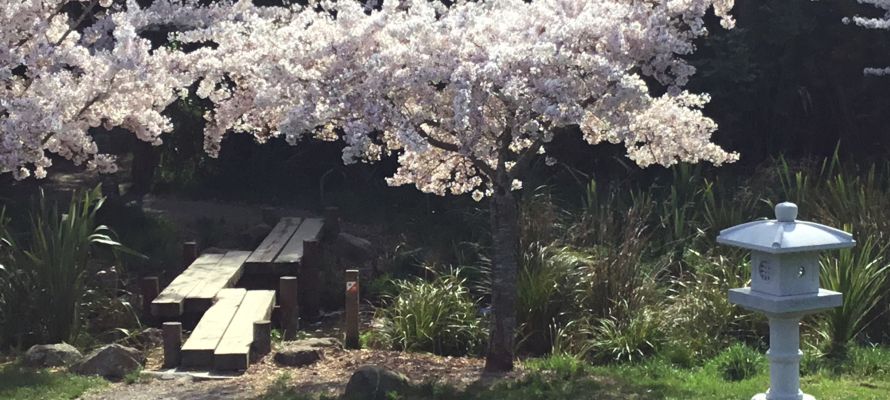 Sister city connection.
Kidsfirst Sunbeam visited the cherry blossom trees at the Halswell Quarry and held a dress up day fundraiser, in recognition of their special partnership and friendship with Asahi kindergarten, in Kurashiki (Christchurch's sister city), Japan.

FIND OUT WHY WE'RE JUST BETTER BECAUSE...

To mark their continued friendship with Asahi kindergarten, Kidsfirst Sunbeam visited the Kurashiki Sister City Gardens, at the Halswell Quarry, to see the spring cherry blossoms in full bloom.

Flowering blossom trees are celebrated the world over, but nowhere more so than in Japan. The country has "100 top spots" to revere the arrival of the exquisite sakura (blossom) - the richly symbolic national flower and an integral part of Japanese culture.

Annual, traditional 'Hanami' festivals see families and friends gather under blooming cherry blossoms to picnic, appreciate the temporal beauty of nature and welcome in the spring.

Kidsfirst Sunbeam tamariki, kaiako and whānau enjoy the cherry blossom trees at the Halswell Quarry:

Kidsfirst Sunbeam had also recently held a dress up day with a coin trail, to fundraise in support of Asahi kindergarten, after the region was devastated by floods and landslides in July 2018.

"We were able to donate over $120 towards the Christchurch City Council's sister city flood appeal and in recognition of the special kindergarten partnership we have with Asahi kindergarten," says head teacher, Neroli Gardner.

A coin trail to fundraise in support of the flood ravaged city of Kurashiki, in Japan.

The city of Kurashiki was extremely generous in its funding and aid to support Christchurch following the destructive 2011 earthquakes.

"Naturally we wanted to do something to show we care and were thinking of our friends at Asahi kindergarten during this difficult time," says Neroli.`

Tamariki and teachers dress up to help fundraise for Asahi kindergarten, Japan.

.

Kidsfirst Kindergartens
Head Office, 43 Birmingham Drive, Middleton, Christchurch 8024
+64 3 338 1303 email: questions@kidsfirst.org.nz
Postal Details: Kidsfirst Kindergartens, PO Box 8089, Christchurch 8440
KIDSFIRST KINDERGARTENS ARE A NOT FOR PROFIT ASSOCIATION WITH OVER 70 KINDERGARTENS AND EARLY LEARNING CENTRES COVERING CHRISTCHURCH, CANTERBURY, CENTRAL OTAGO, BANKS PENINSULA AND THE WEST COAST - AND HAS DONE SO FOR OVER 100 YEARS
- AS THE PLACE LOCAL KIDS COME TO LEARN, PLAY AND HAVE FUN.