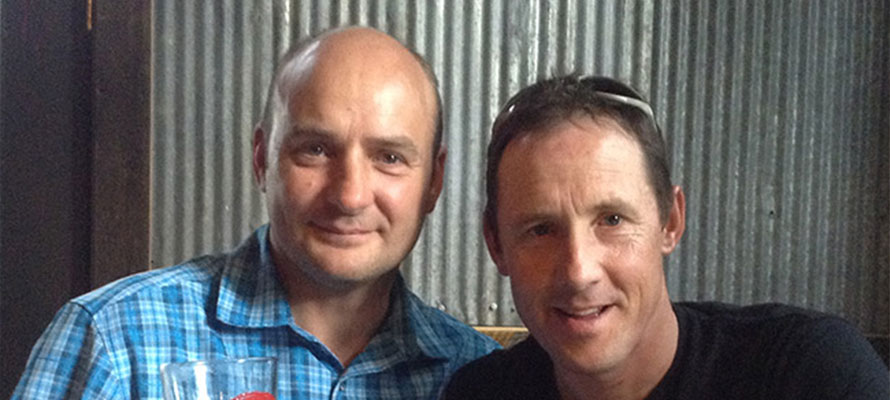 | | | |
| --- | --- | --- |
| | | Forty years on, this Kidsfirst South Brighton kindy friendship is still going strong... |
OUR TOP STORIES:

Warren and Richard (above) raise a glass to a kindergarten friendship that lives on. They first met at Kidsfirst South Brighton when the pair were just three years old. Here they are, celebrating a 40-year friendship in Canada where Warren and his family now live. You never know where your kindy friendships will take you!

This very special kindergarten friendship has been an enduring theme for Kidsfirst Hoon Hay Head Teacher, Abina Loader. Warren is her son and he began at, what was then called, South New Brighton Free Kindergarten, in 1975. In true Kidsfirst style, the teachers back then, as they do now always encouraged promoting friendships. Warren and Richard soon hit it off.

Throughout their time at kindergarten they became firm friends and as each boy turned 5 they went on to the same school. But they were only at South Brighton School for a few years before both families soon moved out of the area. Warren and Richard remained undeterred and continued seeing each other during the school holidays, with both families often holidaying together.

"This continued right through their teenage years, and was made a lot easier when they could ride bikes to see each other after school. Later on, once both Warren and Richard had gained their drivers license, they could visit each other more regularly. They really were just constant companions," says Abina.

Twenty-one years ago, Warren finished his study and moved to Canada - around the same time Richard finished his training with the New Zealand Police. "The strength of their friendship was such that despite being so far away, they in turn travelled halfway around the world to be the Best Man at each other's weddings in 2001 and 2002," said Abina.

For his part, Richard holds happy memories of meeting Warren in Victoria Square after school to have a few vanilla icies. They went through Avonhead Venturers together, which was "one up" from Scouts, and had many trips around the South Island with friends whilst they were growing up, getting up to all sorts of mischief.

In August this year, Richard flew to Canada (thanks to Warren's Airpoints) to spend three wonderful weeks with each other, celebrating 40 years of friendship. They travelled around Canada and America together with their families, and enjoyed every minute.

QUICK READ

Great mates since they first met at Kidsfirst South Brighton both at the age of three, Warren and Richards friendship now spans more than 4 decades - as well as an ocean.
KIDSFIRST KINDERGARTENS ARE A NOT FOR PROFIT ASSOCIATION THAT HAS DEVELOPED AND MAINTAINED KINDERGARTENS IN CHRISTCHURCH, CANTERBURY AND ON THE WEST COAST FOR OVER 100 YEARS - AS THE PLACE LOCAL KIDS COME TO LEARN, PLAY AND HAVE FUN.