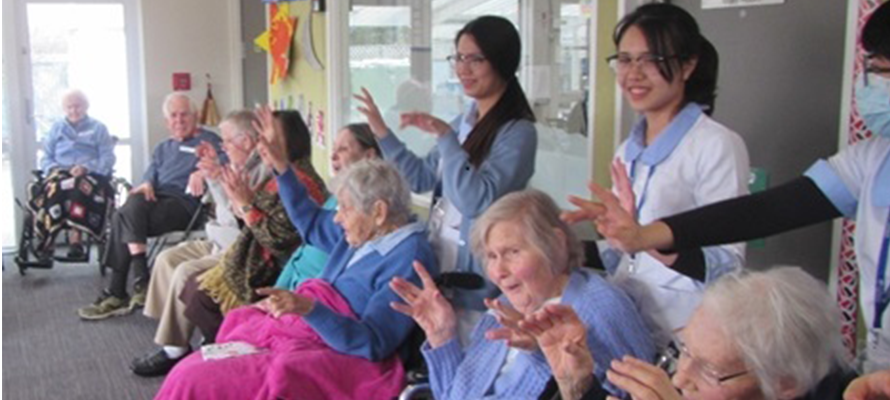 Having a grand time.
It's a special time for tamariki at Kidsfirst Selwyn Street when their lovely Grandfriends from the local Bishop Selwyn Retirement Village visit to share waiata, stories and kai at kindergarten.

FIND OUT WHY WE'RE JUST BETTER BECAUSE...

"There's always an air of excitement when our Grandfriends are spotted on the footpath," says Kidsfirst Selwyn Street teacher, Lisa Foraker. "And word of their arrival quickly spreads throughout the kindergarten."

As a way of welcome, children are encouraged to walk their Grandfriends inside and to help them find a seat.

After performing their waiata children will often take requests for a hearty sing-a-long. Then it's cup of tea and kai time followed by the tamariki sharing their portfolio and learning stories.

Over time the children have grown a real sense of connection and belonging through these nurtured social interactions.

"As kaiako, we feel great pride and privilege to be a part of this wonderful connection and to watch how comfortable, confident and competent the children have grown with our Grandfriends and them with us."

Kidsfirst Selwyn Street love their Grandfriends and all that they bring to kindergarten!

"We had many eager helpers to bake silverbeet savouries with fresh harvest from our vege garden to share this visit," says Lisa. (See recipe below ;)

Selwyn Street's Silver Beet savouries:

3 eggs

1 cup cheese

3/4 cup flour

1 tsp baking powder

1 cup milk

1 tbsp oil

3 spring onions

1 cup slightly cooked silver beet

(any vege can be used).

Mix all dry ingredients together and mix all wet ingredients together. Combine and spoon into muffin trays.

Bake for 20 minutes at 175 celsius.

YUM, YUM, YUM!

.

Kidsfirst Kindergartens
Head Office, 43 Birmingham Drive, Middleton, Christchurch 8024
+64 3 338 1303 email: questions@kidsfirst.org.nz
Postal Details: Kidsfirst Kindergartens, PO Box 8089, Christchurch 8440
KIDSFIRST KINDERGARTENS ARE A NOT FOR PROFIT ASSOCIATION WITH OVER 70 KINDERGARTENS AND EARLY LEARNING CENTRES COVERING CHRISTCHURCH, CANTERBURY, CENTRAL OTAGO, BANKS PENINSULA AND THE WEST COAST - AND HAS DONE SO FOR OVER 100 YEARS
- AS THE PLACE LOCAL KIDS COME TO LEARN, PLAY AND HAVE FUN.