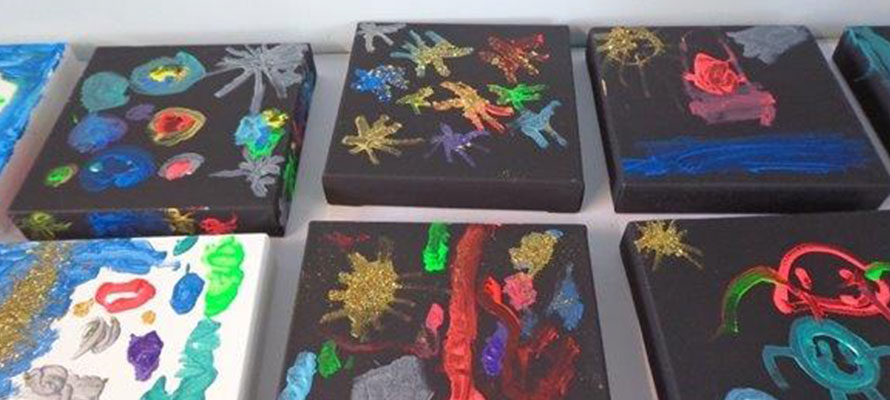 | | | |
| --- | --- | --- |
| | | Going Once, Going Twice – The Great Kidsfirst Redwood Art Auction. |
OUR TOP STORIES:

The art exhibition was organized by mum Carolyn Brazier whose daughter Lucy currently attends the kindy. Lucy had seen her older brother Max's painted canvas at home, from an art exhibition held when he was at Kidsfirst Redwood. Carolyn thought it would be great for Lucy to have a kindergarten keepsake as well and so asked the teachers about running another art exhibition.

"The night went better than we could ever have imagined," says Head Teacher Lyndell Turner.

What started as an inspired idea bloomed into a wonderful event for everyone. Parent volunteers held a meeting to finalise the finer details and created a list of 'to-do' jobs. Families donated refreshments for the night including cupcakes with 'art palette' shaped fondant icing. Outside support helped to keep the costs down too. Warehouse Stationary in Belfast provided both black and white canvases at a discounted price, Whittaker's Chocolate provided prizes for raffles and the wine came courtesy of Winesale.co.nz.

Back at the kindergarten the children were letting their imaginations run wild creating individual canvas masterpieces for the exhibition night. It was perfect timing as the children had just been doing an arts and creativity module so this project flowed on nicely. The budding Picassos created everything from graphic black and white to colourful glitter speckled canvases. These were pre-purchased by their enthusiastic art collector parents, leading up to the event.

Carolyn also had a fantastic follow up idea. The teachers could create their very own painted canvases as well – to be auctioned on exhibition night! Initially the teachers were reluctant, but they were soon inspired and creating their own great works.

When exhibition night arrived, both the children and teachers artworks were covered up to create some drama before the big reveal. It was magnificent to see the children's art work all together and displayed beautifully on the walls. Before the auction began for the teachers canvases, families were invited to guess which teacher made which artwork - which inspired great discussion.

Carolyn admitted to some pre-auction nerves, "I'd never done an auction before, it was a bit outside of my comfort zone and tested my abilities - but there was a really great vibe in the room."

And so the bidding began…..

The opening bid for each teacher's painting was $10, then after that the bidding went crazy and they sold for amazing amounts! Together with the $2 door sales, pre-puchased kids canvases and the lucrative sale of the teachers art pieces a whopping $1,100 was raised!

"The art exhibition and auction exceeded our expectations in many ways. Involving the teachers in the evening through their own pieces of art was really one of the surprise successes of the night and one that they themselves are still on a high from. The teacher's reactions were priceless - they were blown away to see how desirable their paintings were," says Carolyn.

Everyone agreed the walls had never looked so good, so the canvases stayed up for the rest of the week to enjoy and for the children to see. They have been a real conversation piece and parents agree it will be nice to have them on the walls at home too.

"You get so many lovely paintings from kindy but it's nice to have a beautiful canvas to keep."

QUICK READ

Kidsfirst Redwood's recent art exhibition and auction turned out to be a really fun community night out - not only a fantastic social event for families but a hugely successful fundraiser too.

LEARNING OUTCOMES:

The learning outcomes for Children, Parents and Whānau:

Celebrating and sharing our children's creativity.
Bringing everyone together to mix, mingle and share our wonderful kindy with whānau/friends and the community.
Great team work in collaboratively raising funds for the kindergarten and for new resources that the children can enjoy.
KIDSFIRST KINDERGARTENS ARE A NOT FOR PROFIT ASSOCIATION THAT HAS DEVELOPED AND MAINTAINED KINDERGARTENS IN CHRISTCHURCH, CANTERBURY AND ON THE WEST COAST FOR OVER 100 YEARS - AS THE PLACE LOCAL KIDS COME TO LEARN, PLAY AND HAVE FUN.