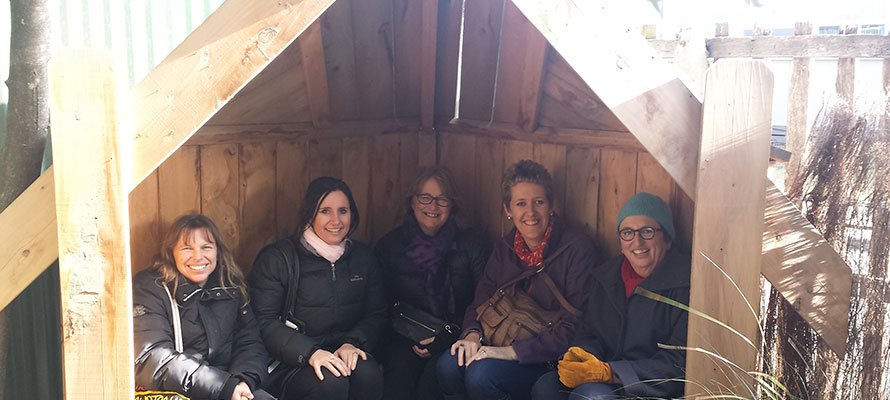 | | | |
| --- | --- | --- |
| | | Professional development has made a positive difference to the way our teachers approach learning at Kidsfirst Queenspark. |
OUR TOP STORIES:

The teaching team at Kidsfirst Queenspark have been encouraged by a recent sustainability review, led by Education Services Manager Gae Thawley. Teachers Helena Pope, Joanna Stewart, Joelene Hemmingsen and Cherie Johnson visited both Kidsfirst Hoon Hay and Kidsfirst Lincoln to find some inspiration from the environmentally focused kindergartens.

"What I loved was the opportunity to connect with other teachers and listen to their experiences of developing sustainable environments, and then linking this to our own kindergarten – trying to figure out how this could work for us," says Joelene.

"Being involved in such an inspiring day of professional development changed my own way of thinking around sustainable practices to make it richer and deeper."

QUICK READ

Teachers at Kidsfirst Queenspark were inspired to make some changes around environmental sustainability, after a recent day of professional development. They hope that, in turn, they too will inspire others to do the same.
KIDSFIRST KINDERGARTENS ARE A NOT FOR PROFIT ASSOCIATION THAT HAS DEVELOPED AND MAINTAINED KINDERGARTENS IN CHRISTCHURCH, CANTERBURY AND ON THE WEST COAST FOR OVER 100 YEARS - AS THE PLACE LOCAL KIDS COME TO LEARN, PLAY AND HAVE FUN.