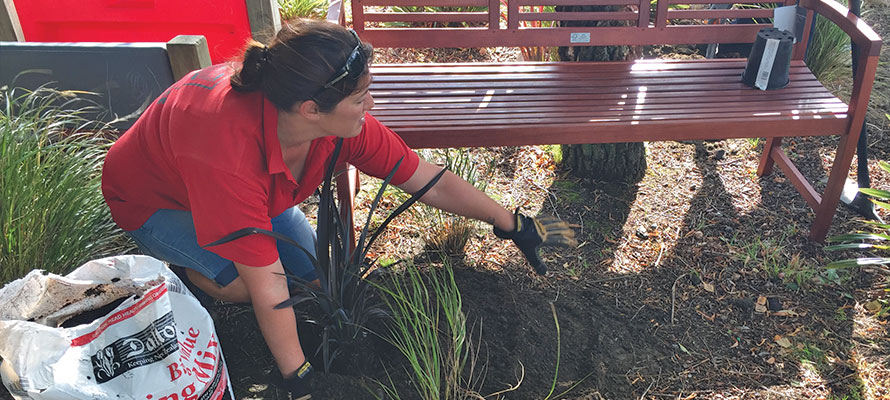 | | | |
| --- | --- | --- |
| | | Kidsfirst Portsmouth Street were delighted when Bunnings Shirley offered to help create a 'happier place' for the children. |
OUR TOP STORIES:

Head Teacher Bernie Atger was thinking about the outdoor space at Kidsfirst Portsmouth Street, and how it could do with some more attention, when she got the best kind of surprise.

"I was just raking up the grounds outside and thinking 'Gosh, this place needs a real makeover' and in the gate comes Jaqui from Bunnings. She introduced herself and said they were looking for a long term project which has been absolutely a godsend for us. So it's magic. I nearly fell over backwards.

Thank you Bunnings. Thank you!"

"It's just that we struggle," adds Bernie. She says that fundraising is so difficult for any work that the kindergarten would like done, because there's just so little out there in the local community.

Jaqui from Bunnings Shirley

That's why the contribution, both of materials and people to help plant and construct the various items

was so appreciated.

"We don't know how to thank them enough. Our kids are really excited," says Bernie.

Having the team turn up from Bunnings Shirley was a real boost for the kindergarten... and they bought gloves for the children to wear.

"They bought all these little gloves - brand new garden gloves for the kids. I mean, how can you beat that! I'm happy to be adopted by Bunnings - it's wonderful."

Jaqui explains that Bunning Shirley is on 'this side of town'. She says that they recognised that the kindergarten doesn't get a lot of funding, doesn't get a lot of help…. "in an area where we've got, you know, people struggling".

"You pick your battles, don't you - where they need to be," says Jaqui. "Portsmouth is fabulous."

"We're going to plant out the garden to make it a bit more kid friendly, and a happier place to be. Add a friendship chair, so that anybody who wants to can have a chinwag with each other. And we thought we might put some windbreak around the fence line, up and below - but free in the middle so the children can see through it. We've got some beautiful decorative panels to put on the walls. That's generally it - a lot of planting, a lot of natives, grasses and the like which are hardy but make the place look really good!' says Jaqui.

The Friendship Bench which the team assembled was tried out beforehand, but had it's official unveiling at Kidsfirst Portsmouth Street's 50th Anniversary celebration.

Jaqui from Bunnings and some of the kindergarten children try out the Friendship Bench.

QUICK READ

Kidsfirst Portsmouth Street

received some unexpected but much appreciated help from Bunnings Shirley.

There was a new Friendship Bench, fresh plantings in the garden to tidy up the outdoor space and wall plaques.

Thank you Bunnings.
KIDSFIRST KINDERGARTENS ARE A NOT FOR PROFIT ASSOCIATION THAT HAS DEVELOPED AND MAINTAINED KINDERGARTENS IN CHRISTCHURCH, CANTERBURY AND ON THE WEST COAST FOR OVER 100 YEARS - AS THE PLACE LOCAL KIDS COME TO LEARN, PLAY AND HAVE FUN.