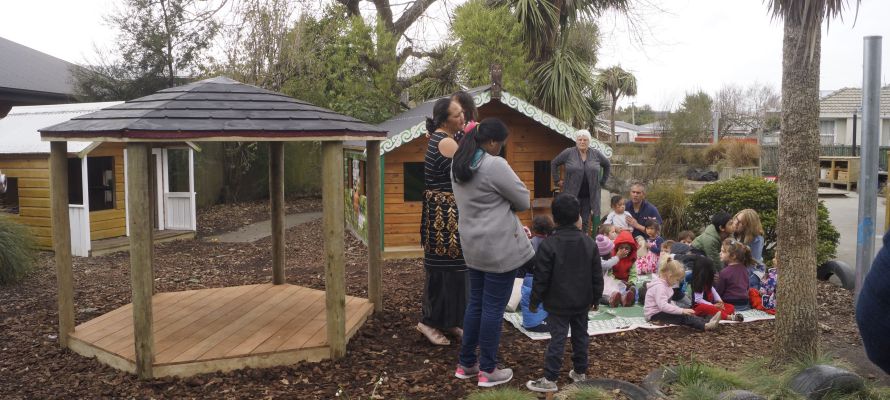 Fale joins global village
There's an incredible diversity of families across the Kidsfirst network and we like to embrace the many different ways to celebrate unique cultural traditions.

FIND OUT WHY WE'RE JUST BETTER BECAUSE...

With that in mind, there's something quite special evolving in Kidsfirst Phillipstown's big backyard. A global village is taking shape with a Māori whare, a colonial cottage and now a Pacific Island fale.

"Initially our cottage and whare were in separate parts of our outdoor area," says head teacher, Kathy Harford. "But we decided to bring them together in the same spot to begin our global community."

The kindergarten recently held a blessing followed by shared kai, to welcome the fale to welcome the latest addition to their multicultural collection - the fale.

Tamariki contributed with dancing and a song, a Tongan mother lead the blessing with a prayer and the Nepalese community blessed the fale with a traditional puja (Hindu prayer ritual).

The Nepalese community gave a traditional puja, a Hindu prayer ritual.

The beautiful gesturing of traditional Pacific Island dance.

"The fale sits nicely as part of our global village," says Kathy.

"And while our whare is a wonderful quiet space to reflect, the fale provides more of an open space for active exploration and movement."

"The children love it!"

.

Kidsfirst Kindergartens
Head Office, 43 Birmingham Drive, Middleton, Christchurch 8024
+64 3 338 1303 email: questions@kidsfirst.org.nz
Postal Details: Kidsfirst Kindergartens, PO Box 8089, Christchurch 8440
KIDSFIRST KINDERGARTENS ARE A NOT FOR PROFIT ASSOCIATION WITH OVER 70 KINDERGARTENS AND EARLY LEARNING CENTRES COVERING CHRISTCHURCH, CANTERBURY, CENTRAL OTAGO, BANKS PENINSULA AND THE WEST COAST - AND HAS DONE SO FOR OVER 100 YEARS
- AS THE PLACE LOCAL KIDS COME TO LEARN, PLAY AND HAVE FUN.