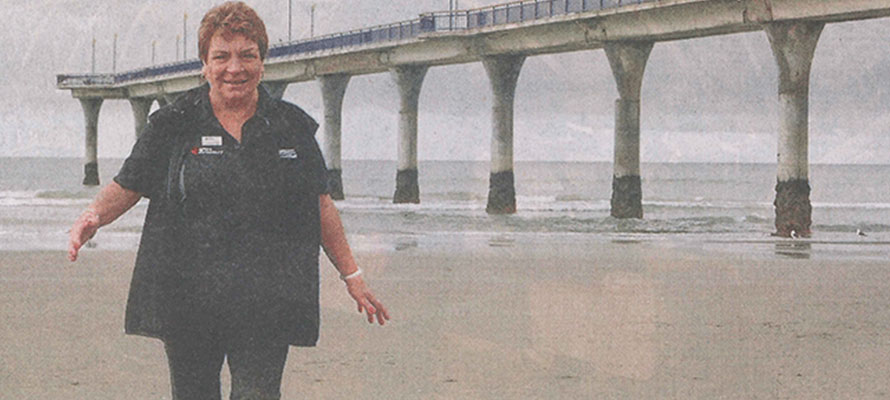 | | | |
| --- | --- | --- |
| | | Another one of our teachers inspiring others is Lynda Donnell. |
OUR TOP STORIES:

In between Zumba classes, badminton, aqua jogging and walking groups, Lynda is not taking things sitting down. Lynda was a permanent teacher here at Kidsfirst, and is now relieving at Kidsfirst Parklands and Kidsfirst South Brighton.

She was diagnosed with neurofibromatosis, and the removal of four tumours in her spine a few years ago meant she now has a paralysed left arm.

Lynda completed Appetite for Life, A Green Prescription (GRx) – a physical activity prescription programme as a part of recovery and personal health management – and has learned to write with her right hand. Through GRx, Lynda says she has gained a new level of motivation and confidence.

"The three personal motivation phrases that keep me going are: Believe in yourself. Where there's a will, there's a way and there's no such word as 'can't', it's called 'CAN' with a 't'!" says Lynda.

Lynda also volunteers in different programmes from Linwood and Bromley to Parklands and Woolston, promoting GRx and sharing her story.

Ka pai Lynda – your story is an inspiration.

QUICK READ

Kidsfirst Relieving teacher Lynda Donnell has a newly found confidence and motivation. She is absolutely convinced that, "Where there's a will there's a way."
KIDSFIRST KINDERGARTENS ARE A NOT FOR PROFIT ASSOCIATION THAT HAS DEVELOPED AND MAINTAINED KINDERGARTENS IN CHRISTCHURCH, CANTERBURY AND ON THE WEST COAST FOR OVER 100 YEARS - AS THE PLACE LOCAL KIDS COME TO LEARN, PLAY AND HAVE FUN.