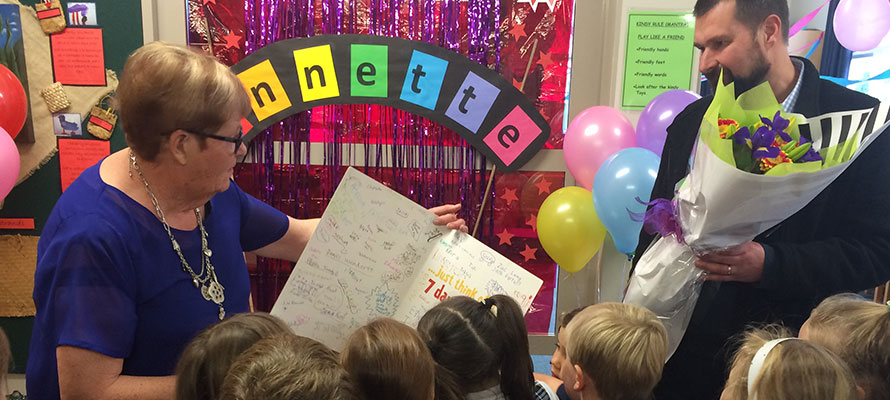 | | | |
| --- | --- | --- |
| | | Annette McCord has given Kidsfirst incredible amounts of her joy, talent, and passion for teaching... over an impressive 38 years. |
OUR TOP STORIES:

Annette was a teacher who consistently went above and beyond for Kidsfirst and we want to thank her for that. Everyday she inspired others with her passion and spark for early childhood education.

Annette's commitment to the Kidsfirst philosophy was resolute, and she worked day in and day out to provide the best opportunities for children.

At her farewell hundreds packed into the beautifully decorated kindergarten and spilled out into the playground; children from primary schools and high schools all over Christchurch came with their parents to spend the afternoon celebrating Annette's legacy. She has been teaching with Head Teacher Margaret Cottrell at Kidsfirst Papanui for 20 years, and says that her oldest "kindy kid" will be around the age of 51 by now.

The impact of a positive, inspiring teacher can be felt by a child for years.

"She truly is one of a kind. Annette has touched so many lives, because teaching for her wasn't just a career, it was a passion," says Margaret.

"Annette was dedicated, loyal, and just went over and above, every time. We are very lucky to have had her in our lives," says teacher Claire Bosworth.

QUICK READ

Annette was farewelled by the teaching team, children, extended whānau and Papanui community at the end of Term Two 2015, after 24 years teaching at Kidsfirst Papanui, and 38 years with the association.
KIDSFIRST KINDERGARTENS ARE A NOT FOR PROFIT ASSOCIATION THAT HAS DEVELOPED AND MAINTAINED KINDERGARTENS IN CHRISTCHURCH, CANTERBURY AND ON THE WEST COAST FOR OVER 100 YEARS - AS THE PLACE LOCAL KIDS COME TO LEARN, PLAY AND HAVE FUN.