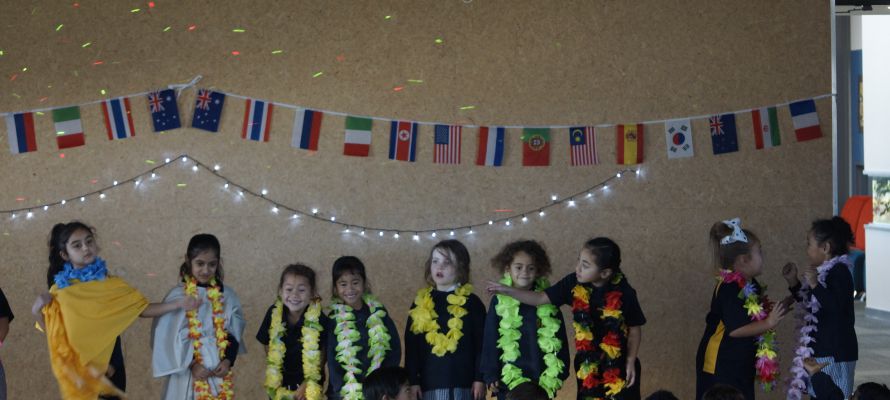 Matariki cluster celebration.
Matariki, the Māori New Year, is a time to celebrate new beginnings and to acknowledge the past while we look to the future. It's also a great opportunity to bring people together and to learn more about our cultural heritage.

FIND OUT WHY WE'RE JUST BETTER BECAUSE...

As part of their Matariki cluster celebrations tamariki from Kidsfirst Hei Hei, Hornby and Wigram, alongside local schools Hornby Primary and St Bernadette's, performed on stage for whānau and friends at Hornby Primary School.

"We had a fantastic night," says Teacher, Niki Maritz. "There was a good crowd, all of the children participated really well and teachers from Kidsfirst Broomfield came along to show their support. The whole community brought along kai for a big feast after the show, with lots of time to connect and chat."

Niki described a really special moment when a child from Hornby Primary, who is a past student at Kidsfirst Hei Hei, stood up and spoke fluent te reo to give a pepeha.

"My vision was to bring our community of learners together for a wonderful celebration and that's just what we got, we felt so proud of everyone. We couldn't have done it without the participation and support of all the kindergartens and schools, so thank you."

Check out more Matariki celebration photos below.

.

Kidsfirst Kindergartens
Head Office, 43 Birmingham Drive, Middleton, Christchurch 8024
+64 3 338 1303email: questions@kidsfirst.org.nz
Postal Details: Kidsfirst Kindergartens, PO Box 8089, Christchurch 8440
KIDSFIRST KINDERGARTENS ARE A NOT FOR PROFIT ASSOCIATION WITH OVER 70 KINDERGARTENS AND EARLY LEARNING CENTRES COVERING CHRISTCHURCH, CANTERBURY, CENTRAL OTAGO, BANKS PENINSULA AND THE WEST COAST - AND HAS DONE SO FOR OVER 100 YEARS
- AS THE PLACE LOCAL KIDS COME TO LEARN, PLAY AND HAVE FUN.