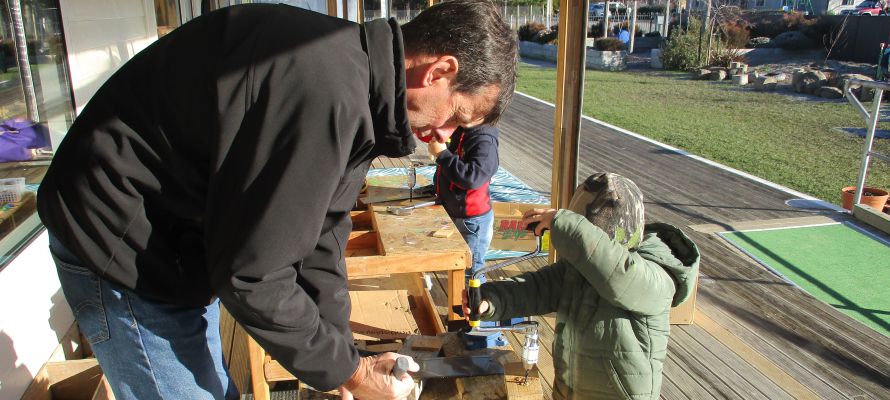 Happy to help.
We understand the importance of encouraging as many different opportunities as we can for children to learn alongside and interact with positive male role models at kindergarten.

FIND OUT WHY WE'RE JUST BETTER BECAUSE...

Kidsfirst Kindergartens property manager Juilian Smith recently travelled to Central Otago, to carry out routine maintenance for our seven centres in the region.

This was perfect timing for Kidsfirst Maniototo who, coincidentally, had just received a delivery of new carpentry tools. Julian immediately got down to business, demonstrating how to use them all with the children.

"It's always a treat to have a male visit kindergarten," says head teacher, Deb McNally. "On his arrival the kids made a beeline for Julian and were really keen to interact with him."

"Come again any time Julian – we all loved seeing you!"

Meanwhile, Kidsfirst Maniototo's lovely neighbour Mr Parker is on hand to help out between times such as popping by to fix the vice at the carpentry table.

"While we can take care of these jobs ourselves, we encourage these kinds of visits from Mr Parker because he's so good with the kids and they so respond well to having him here," says Deb.

Mr Parker is a granddad and owns the local bookshop (he also sells ice-creams there!). He has a bird aviary in his backyard that children sometimes visit. Other times he'll swing by the kindy to help out at the woodwork table or with creative projects such as making a bird feeder.

Children have taken responsibility to help carefully peel apples each day to put in the bird feeder for visiting the wax eyes.

Thanks Mr Parker, we really appreciate your creativity and your time spent with the children!

.

Kidsfirst Kindergartens
Head Office, 43 Birmingham Drive, Middleton, Christchurch 8024
+64 3 338 1303 email: questions@kidsfirst.org.nz
Postal Details: Kidsfirst Kindergartens, PO Box 8089, Christchurch 8440
KIDSFIRST KINDERGARTENS ARE A NOT FOR PROFIT ASSOCIATION WITH OVER 70 KINDERGARTENS AND EARLY LEARNING CENTRES COVERING CHRISTCHURCH, CANTERBURY, CENTRAL OTAGO, BANKS PENINSULA AND THE WEST COAST - AND HAS DONE SO FOR OVER 100 YEARS
- AS THE PLACE LOCAL KIDS COME TO LEARN, PLAY AND HAVE FUN.