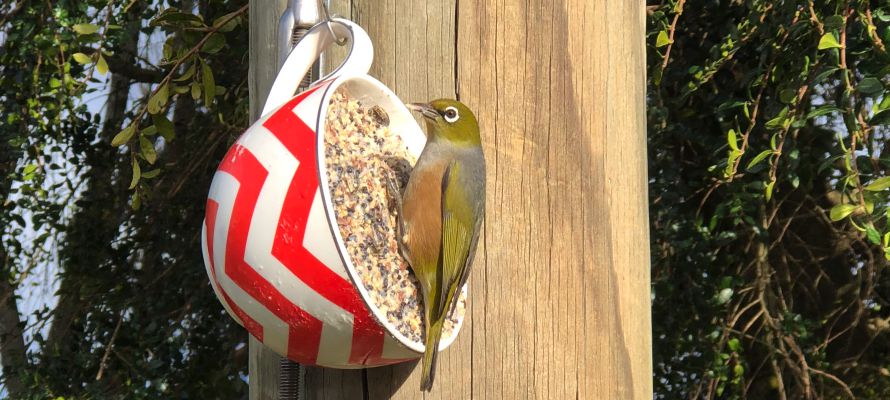 Bird survey for sustainability
Part of being a sustainable organisation is teaching children the importance of looking after our environment now and for future generations.

FIND OUT WHY WE'RE JUST BETTER BECAUSE...

Kidsfirst Lincoln kaiako/teachers are always on the lookout for positive ways to help encourage kaitiakitanga, the guardianship and sustainability of our natural world.

Throughout the winter months, tamariki have kept a watchful eye on some of the local birds that visit the kindergarten's big backyard.

"We made a hide-out in our garden for children to sit in and watch the birds," says teacher, Ingrid Livingstone.

"Using photographs on clipboards they can learn to identify a wide variety of local birdlife."

TAMARIKI AT KIDSFRIST LINCOLN IDENTIFY VISITING BIRDS FROM THEIR HIDE-OUT.

It's all part of helping tamariki to engage in the New Zealand Bird Survey, that takes place during June and July. The nationwide survey invites people to help count birds in local areas, such as backyards, playgrounds and reserves, for scientific purposes.

The information from the survey is collated to provide an early-warning system if bird populations are in decline, as they are very important indicators of a healthy natural environment.

"As an Enviroschool, we are very keen and enthusiastic contributors to the NZ Bird survey," says Ingrid.

"We often have conversations with the children about the birdlife we see at kindergarten and their importance in helping to spread the seeds of native plants and trees."

BIRD FEEDERS MADE FROM UP-CYCLED MUGS ATTRACT BIRD LIFE TO THE GARDEN.

Eye-catching bird feeders at Kidsfirst Lincoln, made from re-purposed cups and mugs and recycled food waste, are very popular and encourage many birds to visit.

They provide good opportunities for children to spot different species, or identify gender from the colour and markings of the birds feathers - not to mention honing those counting skills!

"The tamariki are very proud of our bird feeder's, they look beautiful and a great way to show how you can upcycle anything and continue to look after our natural world."

COUNTING BIRD VISITORS TO KINDERGARTEN TO HELP NZ BIRD SURVEY.

You might like to have a go at attracting more birdlife into your kindergarten or home garden over the winter by making your own bird feeder in a mug.

Kidsfirst Lincoln use softened dripping, millet seeds, roughly cut pumpkin seeds, wild bird seed, and any food waste that can't be used for their worm farm.

Or click here to find out how to easily create a pine cone bird feeder, with smooth peanut butter, lard and birdseed. Happy bird watching!

Our tamariki and our environment - true taonga/treasure.

.

Kidsfirst Kindergartens
Head Office, 43 Birmingham Drive, Middleton, Christchurch 8024
+64 3 338 1303email: questions@kidsfirst.org.nz
Postal Details: Kidsfirst Kindergartens, PO Box 8089, Christchurch 8440
KIDSFIRST KINDERGARTENS ARE A NOT FOR PROFIT ASSOCIATION WITH OVER 70 KINDERGARTENS AND EARLY LEARNING CENTRES COVERING CHRISTCHURCH, CANTERBURY, CENTRAL OTAGO, BANKS PENINSULA AND THE WEST COAST - AND HAS DONE SO FOR OVER 100 YEARS
- AS THE PLACE LOCAL KIDS COME TO LEARN, PLAY AND HAVE FUN.