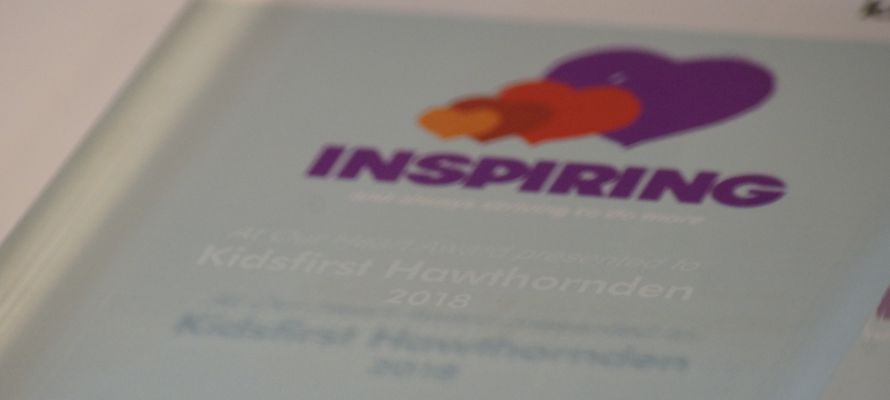 At Our Heart Awards.
Proud, Engaged, Whānau, Passionate, and Inspiring – these are the Kidsfirst At Our Heart values that we live out every day at kindergarten. Every year we recognise the teaching teams who have particularly exemplified these values with certificates for runners-up, and trophies for the winners.

FIND OUT WHY WE'RE JUST BETTER BECAUSE...

Congratulations to our Inspiring winner, Kidsfirst Hawthornden, recognised in the 2018 At Our Heart Awards, presented at the AGM in May.

"It's certainly one of my favourite times of the year, when we can recognise the kindergartens and teaching teams who've really shone and exceeded all expectations," says Kidsfirst CE, Sherryll Wilson.

Where would we be without inspiration? It drives us and makes us better, and sometimes when we see someone doing something really special, it spurs us on to achieve greater things ourselves. As a network, we are continually striving for new ideas and innovations to help early childhood education grow and evolve.

The Kidsfirst Hawthornden teaching team has worked really hard to involve whānau in children's learning at their centre.

They completed comprehensive research into Trisessment – the inclusion of whānau, children and parents' voices, and implemented their research findings to great results.

The team wrote more learning stories then ever, with whānau enagagement on Educa has increased 115% and the quality and number of comments made by whānau is up 150%. We can't argue with those results!

They've inspired other kaiako/teachers by taking a leading role in sharing their practice at our Kidsfirst Professional Learning Hui, inviting kindergartens to hear about their innovative practices and improved outcomes for tamariki and whānau.

Congratulations Kidsfirst Hawthornden!

Although we celebrate these values each year with awards and certificates, we know that tamariki, families and communities see the behaviours and commitment associated with our values every day, in so many different ways in all of our wonderful kindergartens across the network. So congratulations and keep doing what you're doing so well.

.

Kidsfirst Kindergartens
Head Office, 43 Birmingham Drive, Middleton, Christchurch 8024
+64 3 338 1303email: questions@kidsfirst.org.nz
Postal Details: Kidsfirst Kindergartens, PO Box 8089, Christchurch 8440
KIDSFIRST KINDERGARTENS ARE A NOT FOR PROFIT ASSOCIATION WITH OVER 70 KINDERGARTENS AND EARLY LEARNING CENTRES COVERING CHRISTCHURCH, CANTERBURY, CENTRAL OTAGO, BANKS PENINSULA AND THE WEST COAST - AND HAS DONE SO FOR OVER 100 YEARS
- AS THE PLACE LOCAL KIDS COME TO LEARN, PLAY AND HAVE FUN.