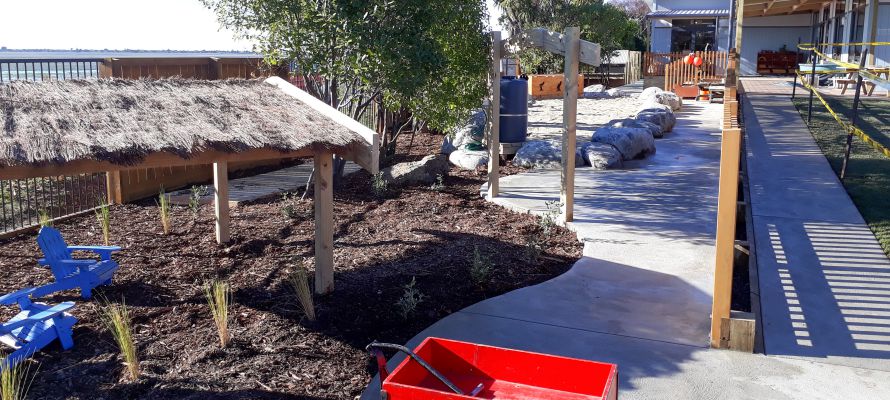 New kindergarten opens in stunning seaside location.
Kidsfirst Kindergartens The Bays is our brand new, purpose-built kindergarten, on the Mt Pleasant Causeway and now open for families.

FIND OUT WHY WE'RE JUST BETTER BECAUSE...

Kidsfirst Kindergartens The Bays opened its doors on 25 July, bringing fresh excitement to Christchurch's most loved seaside suburbs. The kindergarten caters for up to forty children between 2 and 5 years old, offering 30 hours free each week.

With its spacious open-plan design, stunning views across the estuary, state of the art playground and large, tree-filled backyard the new kindergarten is already proving popular with local families.

"We are very proud of the newest addition to our network of 70+ not-for-profit kindergartens," says Kidsfirst Business Development Manager, Jenny Pitama.

"It's fantastic to be up and running in this uniquely beautiful spot and to welcome new and existing families for a great quality start to their early childhood education."

COASTAL THEME FOR COLOURS AND MATERIALS CHOSEN FOR KIDSFIRST THE BAYS.

Kidsfirst The Bays was specifically designed with the changing needs of 21st century young learners in mind. Colours, materials and resources selected for the kindergarten reflect the natural environment and wildlife of its coastal setting.

"It's great to be here and our children seemed right at home from the moment we opened," says head teacher, Liza Hewison. "Our large, boulder-lined sandpit overlooking the water has had quite the test run and passed with flying colours, fast becoming a favourite spot for play and exploration."

GUESTS ARRIVE FOR KIDSFIRST THE BAYS CELEBRATION DAY.

CHAIR, VIV RUTH WELCOMES EVERYONE TO THIS WONDERFUL OCCASION.

Many children now attending Kidsfirst The Bays have come from a temporary facility run out of a local church hall, after the Kidsfirst kindergarten in Mt Pleasant was badly damaged in the February 2011 earthquake. Prior to it's demolition, the original kindergarten building had been at the same site, on the McCormacks Bay Reserve, for more than fifty years.

"In that sense, it's actually more of a homecoming," says Jenny Pitama. "Seeing the children and teachers thriving in their new environment is, for us, a fantastic outcome and testament to the great team of people who have worked so hard, for so many years, to bring the kindergarten back to life."

Kidsfirst is grateful for the continued support of the local community during this time.

"We would also like to give special acknowledgement to Te Hapu o Ngāti Wheke, who shared important cultural knowledge and korero (narrative) about the local area and its people during the kindergarten's development."

KIDSFIRST THE BAYS SANDPIT OVERLOOKING THE WATER.

Kidsfirst Kindergartens The Bays is open from 8.30am – 2.30pm Monday to Friday. There are spaces still available, and children aged 2-5 can come for up to 30 hours per week free of charge (conditions apply). The kindergarten will also operate during term breaks.

To find out more about enrolling at The Bays or any other Kidsfirst kindergarten, phone (03) 338 1303 or 0800 4 KIDSFIRST (0800 454 373), or email betterbecause@kidsfirst.org.nz

.

Kidsfirst Kindergartens
Head Office, 43 Birmingham Drive, Middleton, Christchurch 8024
+64 3 338 1303 email: questions@kidsfirst.org.nz
Postal Details: Kidsfirst Kindergartens, PO Box 8089, Christchurch 8440
KIDSFIRST KINDERGARTENS ARE A NOT FOR PROFIT ASSOCIATION WITH OVER 70 KINDERGARTENS AND EARLY LEARNING CENTRES COVERING CHRISTCHURCH, CANTERBURY, CENTRAL OTAGO, BANKS PENINSULA AND THE WEST COAST - AND HAS DONE SO FOR OVER 100 YEARS
- AS THE PLACE LOCAL KIDS COME TO LEARN, PLAY AND HAVE FUN.