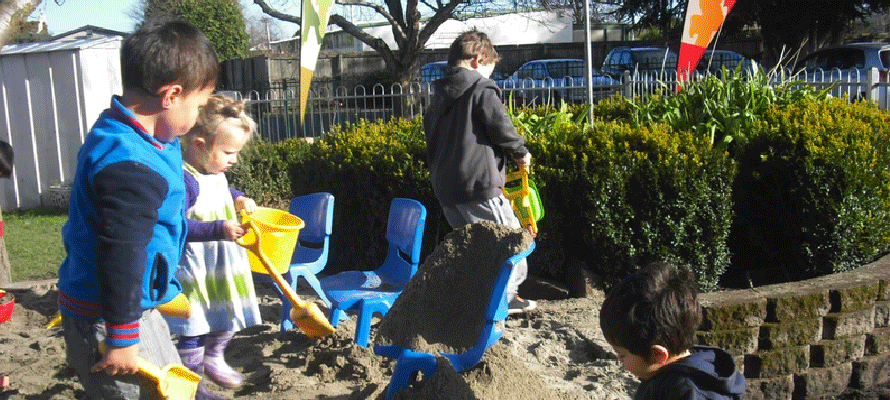 | | | |
| --- | --- | --- |
| | | Nothing beats a sandpit for hours of inventive playtime fun. Thanks to a community group effort Kidsfirst Kendal Ave now have their very own sandpit as an amazing addition to their outdoor area. |
OUR TOP STORIES:

They really know how to get their hands dirty and how to use a project to pull everyone together and get things done at Kidsfirst Kendal Avenue. Parents, teachers and staff from Birmingham Drive all pitched in to lend a hand and build Kidsfirst Kendal Ave's very own sandpit. It was a productive and fun group project and afterwards they all enjoyed a well-earned shared lunch.

"When we talked to Bob at Birmingham Drive, he suggested a working bee - that way we could save $600 and have fun at the same time," says Sue.

"At first, we thought he was joking - but when we realised that this was going to be the only way for us to afford a sandpit, we began to think that the idea had traction. As it turned out, Bob used a LOT of our personal traction on the day of the working bee."

Bob was true to his word when he promised that some Birmingham Drive staff would turn up on the day and give the Kendal Ave crew a hand. 
"And do you know what? He was right!" says Susan. "We all had a lot of fun - the teachers, parents and children and even their big brothers and sisters. Together we were awesome!"



"After it was finished one child asked 'Sue, how do you build a sandcastle?' He had never played with sand before!"

Susan said that the day was a real revelation, "It's not until you do something like a working bee that you realise how much talent is in the community." With the soil left over from the construction project, Kidsfirst Kendal Ave have been able to start planting a garden. "What joy!" Susan concludes.

QUICK READ

In an impressive combination of kiwi ingenuity and engagement, Head Teacher of Kidsfirst Kendal Avenue Susan Downey-Clarke and the team rustled up a group of parents, children and Birmingham Drive staff, to build a sandpit over the term break.

,
KIDSFIRST KINDERGARTENS ARE A NOT FOR PROFIT ASSOCIATION THAT HAS DEVELOPED AND MAINTAINED KINDERGARTENS IN CHRISTCHURCH, CANTERBURY AND ON THE WEST COAST FOR OVER 100 YEARS - AS THE PLACE LOCAL KIDS COME TO LEARN, PLAY AND HAVE FUN.