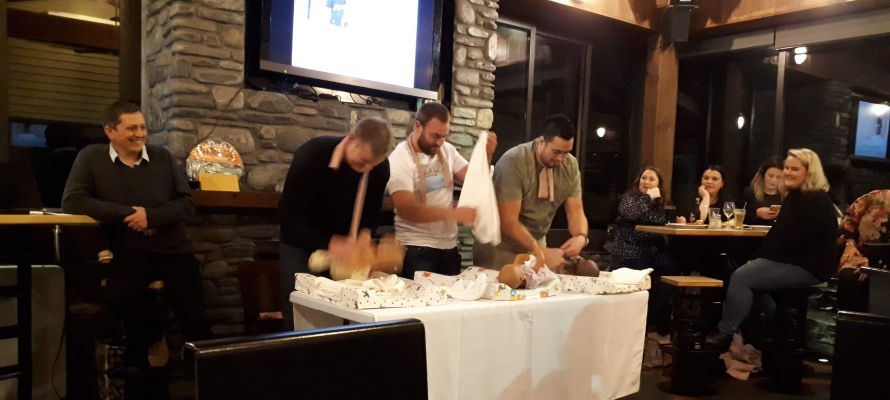 Positive learning and fun in one.
At Kidsfirst Kindergartens, we have always been proud to have a number of qualified, experienced male teachers who bring diversity, a different set of skills and a fantastic vibe to early childhood education.

FIND OUT WHY WE'RE JUST BETTER BECAUSE...

Kidsfirst Karoro head teacher, Raelene Johnson, talks about the positive influence teacher, Tim Eden-Calcott (seen at very left of top photo) brings to their West Coast kindergarten team.

"Tim's great. He adds a different dimension of fun for the children. He's into promoting STEM (Science, technology, engineering, mathematics) and spends lots of time outdoors on activities such as construction and building."

He's passionate about the natural environment and about developing children's capabilities within it, engaging them with growing veges, going on weekly bush walks and the creation and ongoing observation of a wonderful bug garden area (complete with a weta hotel) to learn more about insects within their natural habitat.

"Tim has an amazing project-based approach at kindergarten and took responsibility for the completion of a new bike ramp, a massive mud kitchen, new vege gardens, a worm farm and an entire upgrade of the kindergartens outdoor area."

"He's a fantastic asset – enthusiastic, fun and nurturing and brings a wonderful balance to our team. Tim is an excellent networker within the community and inspires lots of outside support for our kindergarten."

Tim was the fantastic MC for this years wildly popular mid-winter kindergarten fundraiser, held at their local community hub, the Paroa Hotel.

Teams of Dads battle it out to take out first place in the hula-hoop challenge.

The "Father of the Year" fundraiser saw three teams of Dads battle it out to reign supreme as; top hula hooper, leading lego builder, fastest cloth nappy changer, ultimate play-dough creator and best dressed barbie!

Raelene said, "It was such a great atmosphere and the whole evening went down an absolute treat." Comments on the night included, "It was absolutely hilarious" and "I haven't laughed so much in ages!"

On the judging panel were local Mayor Tony Kokshoorn, Karoro Primary School Principal, Maureen Truman and kindy kid Millie Brown (who required a quick crash course in how to write numbers large enough to display on the score cards).

A raffle and spot prizes bumped up the fundraiser earnings from ticket sales and contributed to a really successful night. Thanks Tim for all the positivity you bring to the Kidsfirst Karoro helping to make the kindergarten a true taonga in the community.

.

Kidsfirst Kindergartens
Head Office, 43 Birmingham Drive, Middleton, Christchurch 8024
+64 3 338 1303 email: questions@kidsfirst.org.nz
Postal Details: Kidsfirst Kindergartens, PO Box 8089, Christchurch 8440
KIDSFIRST KINDERGARTENS ARE A NOT FOR PROFIT ASSOCIATION WITH OVER 70 KINDERGARTENS AND EARLY LEARNING CENTRES COVERING CHRISTCHURCH, CANTERBURY, CENTRAL OTAGO, BANKS PENINSULA AND THE WEST COAST - AND HAS DONE SO FOR OVER 100 YEARS
- AS THE PLACE LOCAL KIDS COME TO LEARN, PLAY AND HAVE FUN.